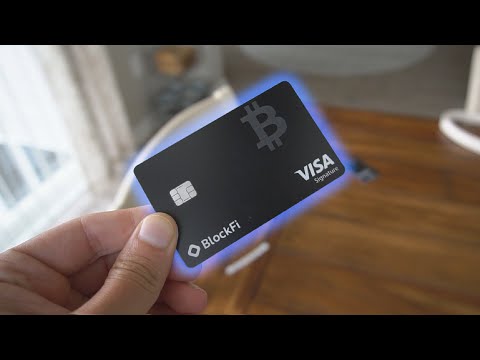 There's now a Bitcoin credit card powered by VISA the biggest payment processor in the world, EVER! Forget cashback, you can now get Bitcoin back on all of your purchases AND earn easy passive income with Bitcoin and other cryptocurrencies! Secure your card and get $250 https://voskco.in/blockfiCC
Reserve your Bitcoin Credit Card NOWWW! https://voskco.in/blockfiCC
Get $250 FOR FREE and earn passive income w/ BlockFi - https://voskco.in/blockfiCC
Subscribe to the best crypto youtube channel! http://voskco.in/Sub
Pretty unreal to see a VISA POWERED BITCOIN CREDIT CARD, I mean seriously this is the best credit card ever because you earn Bitcoin rewards on every purchase instead of just cashback or lame reward points. Year over year Bitcoin proves to be one of the best investments ever, and year over year governments continue to inflate their fiat currencies, and the US dollar is worse less every year that is why we have inflation and prices for every item and service continue to rise. The Bitcoin credit card by BlockFi empowers users to earn Bitcoin or get BTC back with every purchase and you even start earning interest on your Bitcoin with your BlockFi interest account after you receive your Bitcoin credit card rewards! This is the best cashback credit card in 2021, and 2022, and forever because you aren't actually getting cash back with it, you are getting Bitcoin back which continues to appreciate in value as it has a finite supply and functions as a store of value. I also mine my cryptocurrencies like Bitcoin, Ethereum, and Litecoin directly into my BlockFi account and instantly start earning interest on them! I trade with my BlockFi account and put USD into crypto coins like BTC and ETH with it as well as cash out my crypto into dollars when I need to, all from within the BlockFi app. The Bitcoin credit card by BlockFi is incredible, and a piece of Bitcoin history, but earning easy passive income with my BlockFi interest account is actually how I make the most money with cryptocurrency investing with basically no risk and it's why BlockFi is the best option for earning passive income with your money!
Critical Details about the VISA Bitcoin credit card by BlockFi
NO ANNUAL FEE for the BTC CC by BlockFi
Earn 1.5% back in bitcoin on every purchase
Earn 2% back in bitcoin on every purchase over $50,000 of annual spend
Earn 3.5% back in bitcoin during your first 3 months of card ownership
There are no fees to use the card. No annual fee. No foreign transaction fees
Know if you're pre-approved without affecting your credit score
Earn crypto interest on your bitcoin rewards
2% APY bonus in bitcoin on your stablecoin holdings
Trading bonus: 0.25% back in bitcoin on all eligible trades
Don't delay ordering the best Credit card ever - https://voskco.in/blockfiCC
Stake your Bitcoins, Ethereum, and other crypto coins to earn passive income interest with a BlockFi interest account - https://voskco.in/blockfi

Timestamps


00:00 World's first Bitcoin credit card!
02:12 How I earn passive income with cryptocurrency on BlockFi
03:48 The best interest rates on cryptocurrencies
04:44 Why do I trust BlockFi? BlockFi app review
06:12 Bitcoin credit card with BlockFi! Rewarded in BTC
08:35 Getting started with crypto investing and BlockFi
10:24 VoskCoin Review - The BlockFi Bitcoin Credit Card is the BEST CC ever!
VoskCoinTalk the VoskCoin forum - http://voskco.in/forum
VoskCoin Facebook - VoskCoin
VoskCoin Reddit - https://www.reddit.com/r/voskcoin/
VoskCoin Discord Server Invite - http://voskco.in/discord
VoskCoin Twitter - https://twitter.com/VoskCoin
VoskCoin Instagram - https://www.instagram.com/voskcoin/
VoskCoin is for entertainment purposes only and is never intended to be financial investment advice. VoskCoin owns or has owned cryptocurrency and associated hardware. VoskCoin may receive donations or sponsorships in association with certain content creation. VoskCoin may receive compensation when affiliate/referral links are used. VoskCoin is home of the Doge Dad, VoskCoin is not your Dad, and thus VoskCoin is never liable for any decisions you make.
BlockFi Credit card review BlockFi app review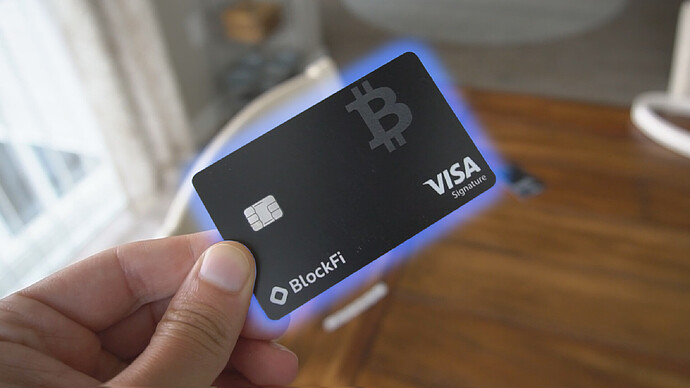 Bitcoin credit card visa blockfi front and back no fees