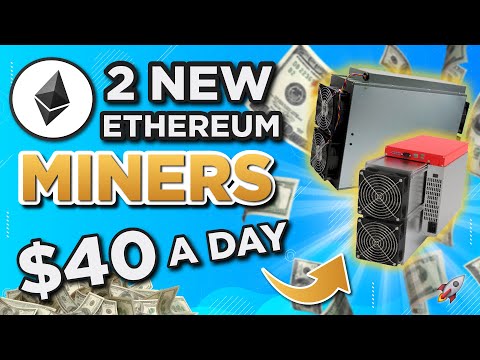 There are two new Ethereum miners that earn over $40 dollars a day in passive income mining cryptocurrency that's insane the most profitable ETH miner mines over $120 a day?!
Subscribe to VoskCoin - http://voskco.in/Sub
Trade crypto and more with PrimeXBT! https://voskco.in/primexbt
Stacked Invest helps you EARN MORE! Stacked
Compass has miners in stock! Compass — Bitcoin Mining and Hosting
It's better to buy a Helium miner than a Ethereum miner - What is the BEST Helium Hotspot Miner to Buy? | by VoskCoin | VoskCoin | Medium
The Bobcat Miner 300 is the best Helium mining rig - https://voskco.in/HNTb
Ethereum mining is the best coin to ASIC and GPU mine in 2021 and Ethereum mining will be the best coin for GPU miners and ASIC miners in 2022 but the real battle what Ethereum mining rig should you buy and where do you buy an Ethereum miner and is it even still worth it to buy an Ethereum miner with Ethereum 2.0 ETH 2.0 coming soon and EIP-1559 impact on Ethereum mining profits?! Well, Ethereum mining profitability is higher than ever, more money was made mining Ethereum recently than ever before. So let's review 2 new Ethereum miners earning over $40 a day?! The Digital Miner Z8 Ethereum miner, and the Great Wolf B1+ Ethereum mining rig review!
Would you say the Greatwolf B1+ Ethereum miner is an ASIC miner or a GPU mining rig for ETH?!
Links!
Review the F2Pool miner revenue - Popular Miners - Mining Revenue Comparison - F2Pool
Bobcat Miner 300 is the best miner to buy - Bobcat Miner 300 - The BEST Helium Miner?? $5-100+ PER DAY?! - YouTube
How to buy the Bobcat Miner 300 - How to Buy Bobcat Miner 300 Helium Hotspot Miner - YouTube
Buy the Innosilicon A11 from Coin Mining Central - Coin Mining Central - UK Cryptocurrency Mining Hardware Supplier
Innosilicon A11 official website and store to buy - Miner list - INNOSILICON - INNOSILICON
Research how and where to buy the Linzhi Phoenix miner - http://voskco.in/linzhi​
Unboxing Linzhi Phoenix ETH ASIC miner - http://voskco.in/gpvU​
Linzhi Phoenix Roll-Out of Ethereum Miner - http://voskco.in/tWZy​
Review the most profitable Ethereum miners to buy - ASIC miners ⛏️ | minerstat

Timestamps


00:00 Earning passive income mining cryptocurrency
01:23 Should you buy an Ethereum miner
02:24 Digital Miner Z8 ETH miner review
03:41 Buying mining rigs on Alibaba
06:49 Stacked Invest
07:38 Digital Z8 Ethereum miner a scam?
08:07 Great wolf Miner B1+ review
08:50 How to buy Greatwolf Miner B1+ ETH miner
09:13 Is it worth it to buy a new Ethereum miner?
10:09 GPU mining vs ASIC mining Ethereum
10:51 Is it too late to buy an Ethereum miner?
11:29 PrimeXBT
14:06 2 New Ethereum mining rigs review
VoskCoinTalk the VoskCoin forum - VoskCoinTalk - Best cryptocurrency & blockchain forum
VoskCoin Facebook - Redirecting...
VoskCoin Reddit - https://www.reddit.com/r/voskcoin/
VoskCoin Discord Server Invite - VoskCoin
VoskCoin Twitter - https://twitter.com/VoskCoin
VoskCoin Instagram - Login • Instagram
VoskCoin is for entertainment purposes only and is never intended to be financial investment advice. VoskCoin owns or has owned cryptocurrency and associated hardware. VoskCoin may receive donations or sponsorships in association with certain content creation. VoskCoin may receive compensation when affiliate/referral links are used. VoskCoin is home of the Doge Dad, VoskCoin is not your Dad, and thus VoskCoin is never liable for any decisions you make.
2 New Ethereum Miners earning over $40 a day?!