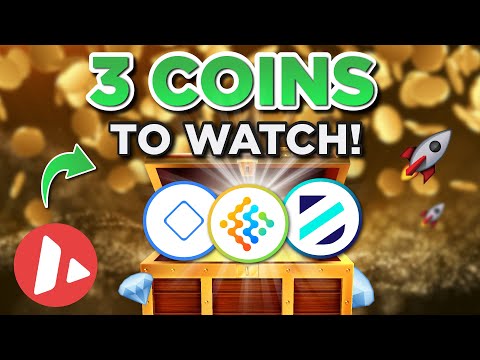 New ecosystems of cryptocurrencies are forming and growing, working together to benefit the others and naturally increase their token prices and enrich the crypto investors backing them, but who and where?! Subscribe to VoskCoin - http://voskco.in/Sub
Learn more about Verso Finance VSO token - https://voskco.in/47s
DCTDAO and DEX DCTD token - https://voskco.in/2d3a00
TokenPlace is building a crypto terminal TOK token - https://voskco.in/e86f83
Compass sells ASIC miners - https://voskco.in/compass
TrustSwap created a token launchpad as well as a DeFi farming platform. Verso Finance and their VSO token along with DCTDAO and their DCTD token AND TokenPlace with their TOK token are all connected in one way or another but what does that matter and how does that build together to possibly make these 3 cryptocurrencies to watch and possibly the next coins to buy in 2021? Let's review these 3 crypto coins to watch and how the DCTD TOK SWAP and VSO tokens are all working together to become a more valuable crypto investment!
All of these coins stem from TrustSwap and the SWAP token - https://voskco.in/a15a85
Links!
Uniswap review and tutorial - Uniswap 2021 Tutorial, Review, and UNI Price Prediction! 📈 - YouTube
Metamask review and tutorial 2021 - MetaMask Guide | BEST Ethereum Wallet for DApps and Smart Contracts - YouTube
Trustwallet makes DeFi on the Binance Smart Chain easy - https://youtu.be/QKQbAke6f5g
Pancakeswap CAKE finance BSC - https://voskco.in/pancake
Learn how to set up the Binance Smart Chain BSC wallet - Binance Smart Chain Overview & BSC Wallet Tutorial - YouTube
Set up MetaMask with BSC Binance Smart Chain and easily swap BNB tokens! - Metamask Binance Smart Chain Setup Guide & BNB to BSC easy swap! - YouTube

Timestamps


00:00 These new crypto projects are pumping over 100%!
01:55 The TrustSwap launchpad & farming pools
03:22 Project #1 - TokenPlace
06:30 Project #2 - DCT DAO
08:55 Project #3 - Verso Finance
11:56 Avalanche Blockchain Avax Token
14:07 TrustSwap TRUST review
VoskCoinTalk the VoskCoin forum - http://voskco.in/forum
VoskCoin Facebook - Redirecting...
VoskCoin Reddit - https://www.reddit.com/r/voskcoin/
VoskCoin Discord Server Invite - http://voskco.in/discord
VoskCoin Twitter - https://twitter.com/VoskCoin
VoskCoin Instagram - https://www.instagram.com/voskcoin/
VoskCoin is for entertainment purposes only and is never intended to be financial investment advice. VoskCoin owns or has owned cryptocurrency and associated hardware. VoskCoin may receive donations or sponsorships in association with certain content creation. VoskCoin may receive compensation when affiliate/referral links are used. VoskCoin is home of the Doge Dad, VoskCoin is not your Dad, and thus VoskCoin is never liable for any decisions you make.
3 Crypto Coins to Watch!