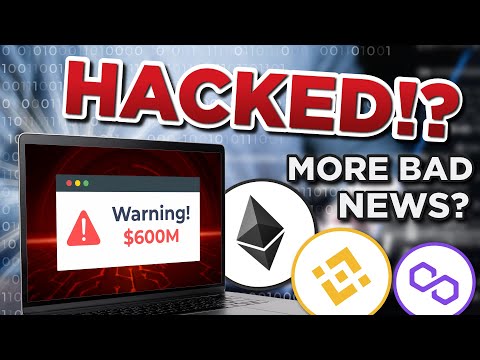 $600 million dollars hacked as the largest DeFi hack in cryptocurrency history, the USA government cracks down on cryptocurrencies with bad legislature and more bad news like ETH mining profits dropping but there is a 5 ETH giveaway! Subscribe to VoskCoin - http://voskco.in/Sub
Join the VoskCoin Telegram group! https://voskco.in/telegram
Join the WHEAT GRO Telegram group! Telegram: Contact @growthdefi
Compass sells ASIC miners - https://voskco.in/compass
The biggest hack in DeFi decentralized finance JUST TOOK PLACE as POLY NETWORK LOST $600m+ of funds… This is NOT the Polygon MATIC network POLY network is a different project but the good news is WHEAT yield farm is giving away 5 Ethereum that just keeps going up in value! The USA government continues to work on disregarding crypto investor input and make it more difficult and cumbersome to be a Bitcoin miner, Ethereum staker, or crypto investor and developer… As it stands we have lost the short-term legislation battle over cryptocurrencies with the United States government but we will not simply give up. EIP-1559 has negatively impacted Ethereum mining profits but they are burning an insane amount of Ethereum with less than 25% of ETH transactions even being EIP-1559 txs! 1inch is giving aways millions of dollars as a ETH gas cashback incentive for those staking their tokens and much more in breaking crypto bitcoin ethereum news today!
1inch the DEX aggregator - https://voskco.in/1inch

Timestamps


00:00 Biggest DeFi hack in history?!
01:26 $600 million was stolen from Poly Network
03:44 5 ETH giveaway! WHEAT yield farm
04:28 Crypto regulation & mining ban update
07:04 Pangea is solving ocean pollution with blockchain!
07:44 Chinese BTC crackdown effect on mining pools
09:16 EIP-1559 Mining updates
10:34 1Inch cash-back on gas fees
11:29 iBG is launching today! Your one-stop shop for DeFi
12:08 Earn more with your crypto with VoskCoin!
VoskCoinTalk the VoskCoin forum - http://voskco.in/forum
VoskCoin Facebook - Redirecting...
VoskCoin Reddit - https://www.reddit.com/r/voskcoin/
VoskCoin Discord Server Invite - http://voskco.in/discord
VoskCoin Twitter - https://twitter.com/VoskCoin
VoskCoin Instagram - https://www.instagram.com/voskcoin/
VoskCoin is for entertainment purposes only and is never intended to be financial investment advice. VoskCoin owns or has owned cryptocurrency and associated hardware. VoskCoin may receive donations or sponsorships in association with certain content creation. VoskCoin may receive compensation when affiliate/referral links are used. VoskCoin is home of the Doge Dad, VoskCoin is not your Dad, and thus VoskCoin is never liable for any decisions you make.
$600m DeFi HACKED and USA government CRACKS DOWN on Crypto and more BAD crypto news…