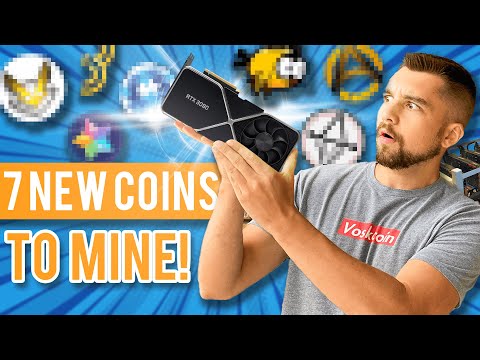 Want to earn passive income working from home using computer hardware you may already have? Well then these 7 new cryptocurrency coins to mine may interest you as they can be GPU mined, CPU mined, and ASIC mined! Subscribe to VoskCoin - http://voskco.in/Sub
This is the BEST mining rig to buy in 2023 - https://voskco.in/chia
Use code VOSKCOIN for a discount!
Want more coins to mine?! here are 6 other new cryptocurrencies you can mine in 2023 and beyond! 6 NEW COINS To Mine in 2023 with GPUs, CPUs, and ASIC Miners! - YouTube
Proof of Work PoW is not dead, nor is it dying as there are a lot of new mineable cryptocurrencies. But just because you can mine a coin, does it mean you really should?? lol we look at 6 new mineable cryptocurrencies that can enable you to earn passive income mining crypto! Let's review these new coins to mine and if they are destined to be some of the best coins to mine to make the most money or uh probably a terrible waste of electricity!
Join the VoskCoin Discord Server and forum VoskCoinTalk!
Links!
Want a sweet crypto t-shirt or hat like mine? BTC Universe - Limited Edition Bitcoin Apparel and Gear
Coin #1 GSP GSPC coin crypto - GSP Coin (GSPC) GhostRider | Mining Pools
Coin #2 Starcash STAR crypto coin - StarCash (STAR) Ethash | Mining Pools
Coin #3 ByinessCoin BYC crypto coin - Byiness (BYC) SHA-256 | Mining Pools
Coin #4 Fennec cryptocurrency FNNC coin - Fennec (FNNC) YescryptR16 | Mining Pools
Coin #5 Squishy Coin SQCN crypto coin - Squishy Coin (SQCN) Equihash | Mining Pools
Coin #6 Accure ACC crypto coin - Accure (ACC) Scrypt | Mining Pools
Coin #7 altcoinchain ALT cryptocurrency Altcoinchain (ALT) Ethash | Mining Pools

Timestamps


00:00 7 new mineable cryptocurrencies!
00:39 Be cautious mining new coins
01:38 How to find new mineable coins
02:51 Coin #1
05:31 Coin #2
06:42 Coin #3
09:13 Coin #4
12:26 Coin #5
13:55 Coin #6
15:16 Coin #7
17:37 Spec mining in 2023?
Follow us on our official social media accounts - VoskCoin | Twitter, Instagram, Facebook | Linktree
VoskCoin is for entertainment purposes only and is never intended to be financial investment advice. VoskCoin owns or has owned cryptocurrency and associated hardware. VoskCoin may receive donations or sponsorships in association with certain content creation. VoskCoin may receive compensation when affiliate/referral links are used. VoskCoin is home of the Doge Dad, VoskCoin is not your Dad, and thus VoskCoin is never liable for any decisions you make.
7 New Coins to MINE with Computers!