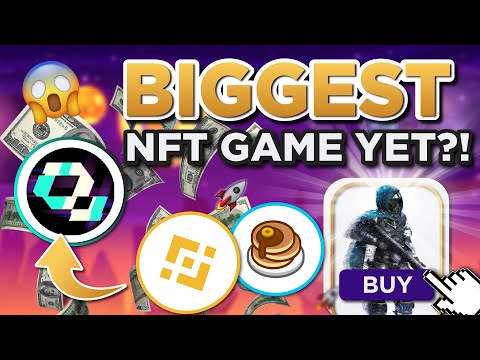 There's a big video game studio building a play to earn NFT game, AAA, with actually good graphics, Project Quantum looks like much more than the typical phone app-looking NFT games we've seen lately! Subscribe to VoskCoin - http://voskco.in/Sub
AAA Play To Earn NFT game Project Quantum! Home - Quantum Works
Compass sells ASIC miners - Compass — Bitcoin Mining and Hosting
Review the BEST Helium hotspot miners - What is the BEST Helium Hotspot Miner to Buy? | by VoskCoin | VoskCoin | Medium
Bobcat Miner 300 is the BEST mining rig to buy! https://voskco.in/HNTb
Join FTX US for trading and NFTs - FTX US
Join FTX for trading and NFTs - FTX
I'm really excited to see an NFT play to earn game that actually has good graphics and much more interesting gameplay than many current NFTs used for gaming that look like they were designed for mobile gaming or knock-off flappy bird games etc! Project Quantum by Quantum Works is a AAA gaming studio working on a AAA cryptocurrency blockchain game let's check it out!
Project Quantum Telegram group - Telegram: Contact @projectquantum
Project Quantum Discord server - Project Quantum
Project Quantum twitter account - https://twitter.com/projectquantum_
Watch our Axie Infinity Play To Earn tutorial - Here's how to Play To Earn with Axie Infinity the BEST NFT game! - YouTube
Metamask video tutorial guide - MetaMask Guide | BEST Ethereum Wallet for DApps and Smart Contracts - YouTube
Explore NFTs on Solana NFT at Solanart - https://solanart.io/
Kart Racing League Twitter - https://twitter.com/KartRacingNFT
Wanna Panda Twitter - https://twitter.com/WannaPandaNFT
Kart Racing League Telegram - Telegram: Contact @kartracingleague
My new NFTs public address and account on opensea - https://voskco.in/oNFTS

Timestamps


00:00 New AAA crypto game incoming?
02:02 Why is play-to-earn so exciting?
03:25 Quantumworks and their AAA crypto game
03:39 Quantumworks project token
04:34 Quantumworks project team
05:05 What is Quantumworks?
05:23 BSC Metamask DeFi guide
06:10 Quantumworks sign-up bonus
06:34 An important feature of Project Quantum
08:17 Project Quantum concept art
08:48 Quantumworks QBIT tokenomics
09:28 How to buy QBIT token?
10:37 Quantumworks social reach
11:10 QBIT token tax overview
11:36 11 important things about Quantumworks by Nasdaq
13:25 Quantumworks A crypto HALO or Cyberpunk?
VoskCoinTalk the VoskCoin forum - VoskCoinTalk - Best cryptocurrency & blockchain forum
VoskCoin Facebook - Redirecting...
VoskCoin Reddit - https://www.reddit.com/r/voskcoin/
VoskCoin Discord Server Invite - VoskCoin
VoskCoin Twitter - https://twitter.com/VoskCoin
VoskCoin Instagram - Login • Instagram
VoskCoin is for entertainment purposes only and is never intended to be financial investment advice. VoskCoin owns or has owned cryptocurrency and associated hardware. VoskCoin may receive donations or sponsorships in association with certain content creation. VoskCoin may receive compensation when affiliate/referral links are used. VoskCoin is home of the Doge Dad, VoskCoin is not your Dad, and thus VoskCoin is never liable for any decisions you make.
AAA Play To Earn NFT Game yeah an actually GOOD Crypto Game!?