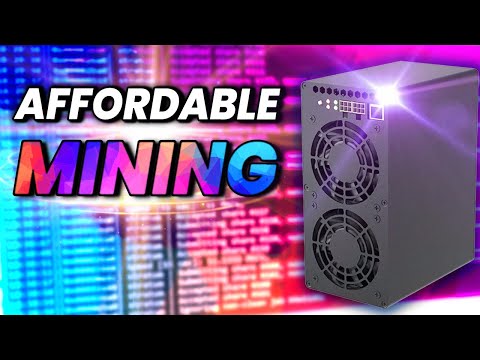 Affordable Mining with this Mini Miner the Goldshell KD BOX II! This miner earns you passive income mining cryptocurrency, specifically mining Kadena KDA, but although the KD-BOX II is affordable, how profitable is it and is it really worth buying this ASIC mining rig? Sub! http://voskco.in/Sub
Buy Kadena ASIC miners with Million Miner - Millionminer - Millionminer
Use code VOSKCOIN to get a BIG DISCOUNT!
Set up to mine with DXPool - https://voskco.in/dxpool
This is my favorite mining rig to buy this year - Evergreen
Kadena a proof of work mineable blockchain platform committed to scalability continues to be a top coin for miners to mine, so let's review the goldshell kd box 2 and see if this ASIC mining rig is worth buying or if we should just wait around for the Bitmain Antminer KA3 Kadena KDA miner to become more affordable?!
Goldshell a Kadena miner manufacturer - https://voskco.in/goldshell
How to set up an ASIC miner - How To Set Up an ASIC Miner - YouTube
How to set up electricity for mining cryptocurrency - Crypto Mining Farm Electricity - When Will I Start Mining Bitcoins?! - YouTube

Timestamps


00:00 Small and affordable mining?
00:44 Mining Kadena a huge opportunity?
01:24 How do you mine crypto?
01:56 What is the Kd-box II Mining performance?
03:44 What is the goldshell mining profitability?
05:31 Kadena KDA price prediction
06:15 Investing Huge grant program!
07:28 Bitmain Antminer KA3 miner on the horizon!
09:59 Sell or Hodl your mined Kadena KDA?
10:47 Tails Vosk!
Follow us on our official social media accounts! - VoskCoin | Twitter, Instagram, Facebook | Linktree
VoskCoin is for entertainment purposes only and is never intended to be financial investment advice. VoskCoin owns or has owned cryptocurrency and associated hardware. VoskCoin may receive donations or sponsorships in association with certain content creation. VoskCoin may receive compensation when affiliate/referral links are used. VoskCoin is home of the Doge Dad, VoskCoin is not your Dad, and thus VoskCoin is never liable for any decisions you make.
Affordable Mining! Mini Miner the Goldshell KD BOX II Review