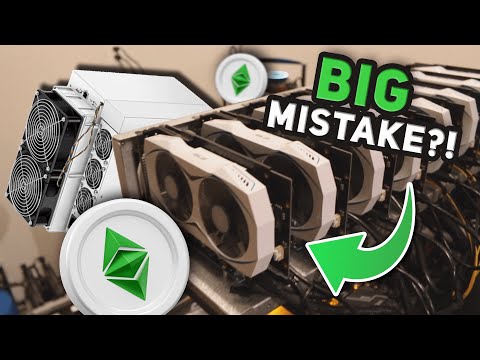 Ethereum Classic (ETC) has drafted a proposal to move to a new mining algorithm! Will the new miners and new algorithm make ETC a top coin to hold? Am I an idiot for not mining a huge bag right now?! Let's find out! Subscribe to VoskCoin! http://voskco.in/Sub
Get $250 for free in Bitcoin with this link! BlockFi Partner Promo | 7.8.22 C
Wanna see how our Bitcoin Supra was designed and brought to life?! - The Making of the Bitcoin Supra | Render to Reality - YouTube
Once Ethereum moves to Proof of Stake, it will no longer be mineable. Many believe that Ethereum Classic ETC will take its place as the king of mineable coins - but is that even possible? ETC is currently looking at changing to a NEW mining algorithm, the SHA-3 algorithm. What does this mean for ETH and ETC miners, and what does it mean for the price of ETC?

Timestamps


00:00 ETC will knock off ETH?
01:00 ETC changing algorithm to SHA3
02:00 ETC history
02:31 IOHK backing up Ethereum Classic
04:00 ETC & Eth Statistics
06:25 Ethereum Devs confirm the merge date!
07:00 ETC could be bigger than Bitcoin?
10:30 SHA-3 ePic Blockchain association
13:13 My opinion on SHA-3
Follow us on our official social media accounts! - VoskCoin | Linktree
VoskCoin is for entertainment purposes only and is never intended to be financial investment advice. VoskCoin owns or has owned cryptocurrency and associated hardware. VoskCoin may receive donations or sponsorships in association with certain content creation. VoskCoin may receive compensation when affiliate/referral links are used. VoskCoin is home of the Doge Dad, VoskCoin is not your Dad, and thus VoskCoin is never liable for any decisions you make.
Am I an IDIOT for Not Mining ETC Right Now?!