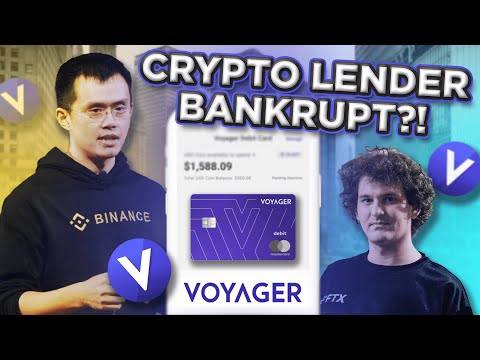 Voyager is a cryptocurency lending and borrowing platform, or, they were, until 3 Arrows Capital blew up and they went bankrupt. FTX led by SBF Sam Bankman-Fried stepped in to bail Voyager out of their bankruptcy, but now FTX has gone bankrupt as well… Subscribe! https://voskco.in/sub
Direct link to Voyager - https://www.investvoyager.com
Direct link to the Voyager bankruptcy filing - Voyager Digital Holdings, Inc., et al.
Voyager went bankrupt in July of this year, and brought their VGX crypto token down with them. Shortly thereafter, SBF and FTX offered to purchase the company in order to assist with the liquidity crisis. However, it has now been revealed that FTX was one of the biggest ponzi schemes in financial history. What does all of this mean for Voyager and their crypto platform? Will the users ever be able to see their funds again? Let's take a deeper look into the situation and see what may lie ahead for Voyager and those affected by the FTX scam.
Gemini Earn faces a similar fate to Voyager? - MORE HALTED CRYPTO WITHDRAWALS?! WTF Gemini Earn and Genesis Trading - YouTube
Is BlockFi awaiting assistance to avoid bankruptcy? - BlockFi Paused Withdrawals...Here's What Happened and What's Next - YouTube

Read the investigation threads here:


Exposure to FTX continues to spread in the contagion -
https://www.usnews.com/news/top-news/articles/2022-11-14/factbox-from-binance-to-voyager-crypto-firms-exposure-to-ftx-is-coming-to-light
Could Voyager customers see 70% of their funds returned despite FTX collapse? - Customers of Bankrupt Crypto Lender Voyager Could Recover 72% of Their Funds if FTX Sale Is Approved: Report
Will Binance be acquiring Voyager? - https://twitter.com/BitcoinMagazine/status/1593213900371042305?s=20&t=tOKoyE7bfDX8-FHLCeZQew

Timestamps


00:00 Voyager crypto went bankrupt
00:58 Voyager will not be sold to FTX
02:04 What was Voyager?
03:55 BlockFi Team page removed
04:34 The downfall of Voyager
07:03 Why FTX wanted to buy Voyager
08:10 Will Binance buy Voyager?
07:53 FTX - the biggest Ponzi in history
09:48 My experience with Celsius & CeFi Platforms
13:00 Time to be kind with others in crypto!
Follow us on our official social media accounts - VoskCoin | Twitter, Instagram, Facebook | Linktree
VoskCoin is for entertainment purposes only and is never intended to be financial investment advice. VoskCoin owns or has owned cryptocurrency and associated hardware. VoskCoin may receive donations or sponsorships in association with certain content creation. VoskCoin may receive compensation when affiliate/referral links are used. VoskCoin is home of the Doge Dad, VoskCoin is not your Dad, and thus VoskCoin is never liable for any decisions you make.
Another Crypto Lender BANKRUPTCY - What Happened to Voyager VGX