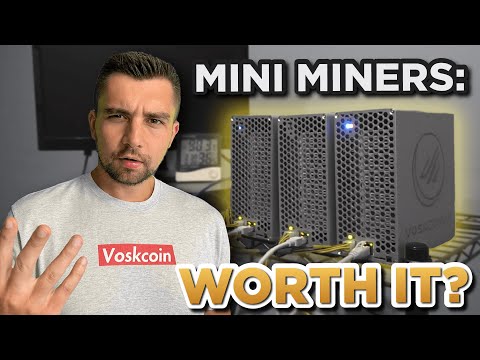 Buying cryptocurrency ASIC miners can be expensive and difficult! But with the advent of Mini Miners by Goldshell, mining crypto earning passive income from your home or office is now possible. But is it worth it? Subscribe to VoskCoin for more mining content! - http://voskco.in/Sub
Step Finance is the BEST Dex on Solana -Step Finance | The Front Page of Solana
LunaOne and their XLN token! Sign up | LunaOne
Get $250 for free with BlockFi! https://voskco.in/250free
Buy Box Miners from Goldshell here! https://voskco.in/goldshell
Looking for a miner BETTER than a Box Miner? https://voskco.in/b300
Over the past two years, Goldshell has developed a range of small, quiet, mini-ASIC cryptocurrency miners that can be placed in your home, office, or crypto mining farm! Goldshell's Box miner series includes miners like the LB (LBRY) Box miner, the Mini Doge miner, Starcoin (STC) miner, and the KD Box (KDA), and the Nervos CK Box (CKB) all of which we've reviewed on the channel. Mini miners give anyone the opportunity to buy a crypto miner and earn passive income without spending thousands of dollars, but are they worth it? Let's review cryptocurrency box miner profitability, availability, and where you can buy them. Can you become a crypto millionaire with these devices?!
How to Set Up an ASIC Miner - How To Set Up an ASIC Miner - YouTube
BTC Crypto & GPU Mining Electricity Guide - Bitcoin Crypto and GPU Mining Electricity Guide! - YouTube
DXPOOL is the BEST mining pool in 2022 - 大象矿池,无忧挖矿

Timestamps


00:00 Mini miners are so much fun
02:03 Insane low power ASIC miners
04:27 How to deploy your box miners
06:57 Make passive income with your hobby
10:31 Profits vs passion
VoskCoinTalk the VoskCoin forum - VoskCoinTalk - Best cryptocurrency & blockchain forum
VoskCoin Facebook - Redirecting...
VoskCoin Reddit - https://www.reddit.com/r/voskcoin/
VoskCoin Discord Server Invite - VoskCoin
VoskCoin Twitter - https://twitter.com/VoskCoin
VoskCoin Instagram - Login • Instagram
VoskCoin is for entertainment purposes only and is never intended to be financial investment advice. VoskCoin owns or has owned cryptocurrency and associated hardware. VoskCoin may receive donations or sponsorships in association with certain content creation. VoskCoin may receive compensation when affiliate/referral links are used. VoskCoin is home of the Doge Dad, VoskCoin is not your Dad, and thus VoskCoin is never liable for any decisions you make.
Are These Mini ASIC Miners Even Profitable?!