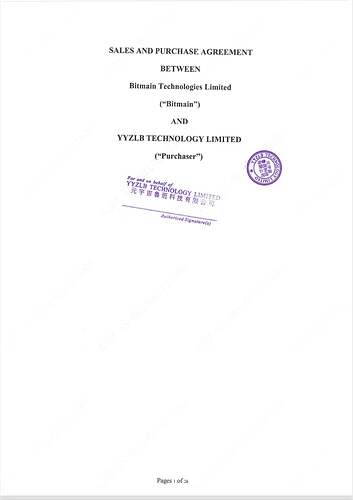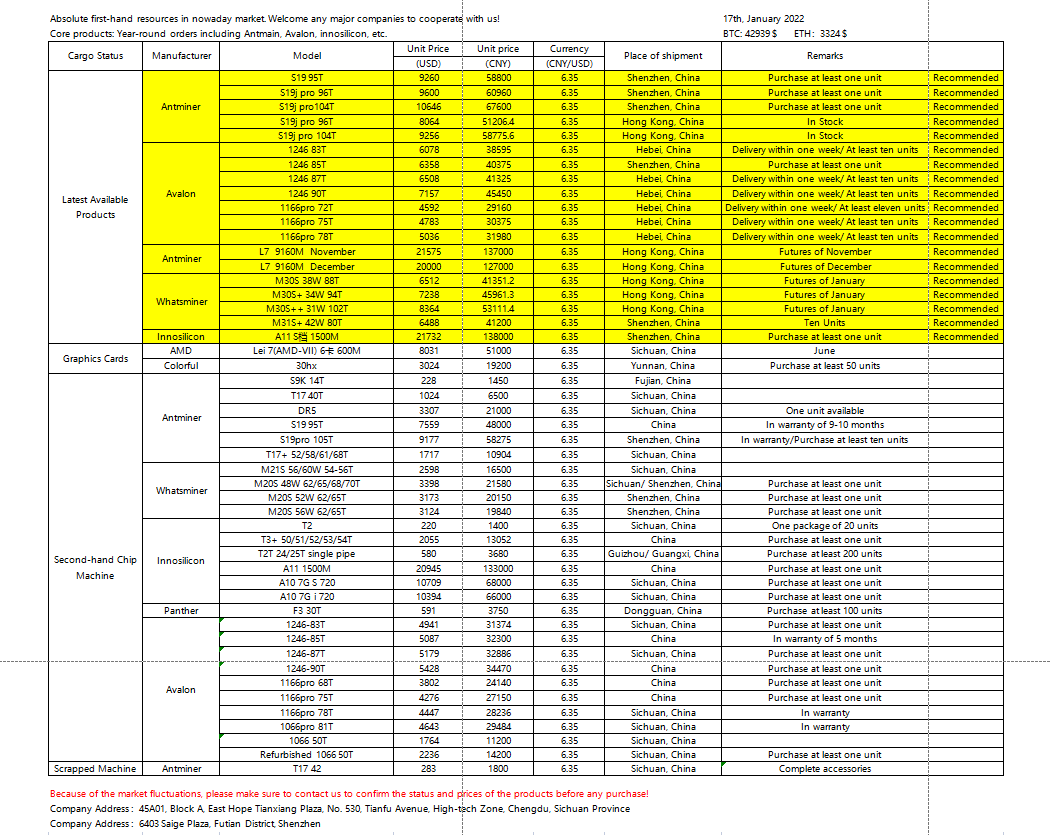 Hi, are you interested in Bitcoin? Have you paid any attention to mining machines?
Now it's your chance to be a part of Meta LB.
Who are we?
Being a world-leading maintenance and sales company of bitcoin mining machines, Meta LB produces media news related to cryptocurrency on the worldwide internet. As a Chinese company with global service capability, we can offer mining machines of varieties of brands at lowest price. Meanwhile, we are able to provide you and your customer with high-quality maintenance service.
In 2022, we plan to continue to establish maintenance and sales companies of bitcoin mining machines in North America, Canada, Russia, Central Asia and other digital asset regulatory compliance and friendly places.
At the same time, we are looking forward to finding more partners and agencies.
Things we can provide:
Cheaper mining machines(brand new and second-hand)
Professional guidance of maintenance of mining machines(We own official maintenance bases of Antminer, Avalon, Whatsminer)
The access to use our company's brand content(We are now operating company accounts on all platforms)
Answer related questions anytime.(For free)
YouTube: https://www.youtube.com/channel/UCVylmZiVVMtzEvZBvBBgxIQ
Q&A
How to guarantee our legitimacy?
We can provide you with our company's business license, photos, part of the manufacturer's authorization, part of the manufacturer's purchase agreement and so on. The large number of high-quality videos present not only our professionalism, but also the power of Meta LB. For more videos, check out on our YouTube channel.
How to make sure your mining machines are running perfectly? What's the procedure of shipment?
We will send you testing videos and photos of the mining machines before shipment. You can also ask us for more information. We will choose the best logistics partners in the industry to realize global distribution. All you have to do is keep in touch with the customers.
What should you do if any problem happens to the machine?
We hope that the cooperation will be long-term and based on mutual trust. Feel free to contact us if anything happens to the machines and we will help you solve these problems within 48 hours.
We also provide multiple payment methods in major currencies around the world, including US dollar, Euros, Canadian dollars, yen etc. and digital currency settlement BTC/ETH/USDC/USDT etc.
Agents do not have to pay any security fees and can settle commissions in designated currencies or digital assets.
Here are two ways to cooperate with us:
In-depth cooperation
As our in-depth cooperation, we will provide you with a unified quotation. When you reach a deal, you will get our core agency price, and we will be responsible for delivery and after-sales of mining machines.
(You need to have a certain influence on we-media, or extensive contacts in the crypto digital asset industry in your area, and actively participate in the information dissemination of meta LB, full of love for the crypto asset industry, and the monthly purchase volume reaches our agreed quantity, you will be open for agent privileges)
Junior cooperation
We will provide you with an official quotation of the company every day, you have the right to set your own price, but we are only responsible for the delivery and will not be responsible for the after-sales problems of the miner.
Cooperation process:
1、Determine your willingness to cooperate
2、Begin basic cooperation
3、Apply to become an agent (If you want, we will make an appointment.)
4、Sign the agent contract
Business process:
The customer sends a purchase request to the agent

Agents contact our staff to obtain specific quotes

Send the quotation to the customer

The customer makes a payment to confirm the order

The company confirms the payment received

Test the mining machine and send relevant videos and pictures

Contact logistics to deliver the mining machine

The customer receives the mining machine

More after-sales service
。