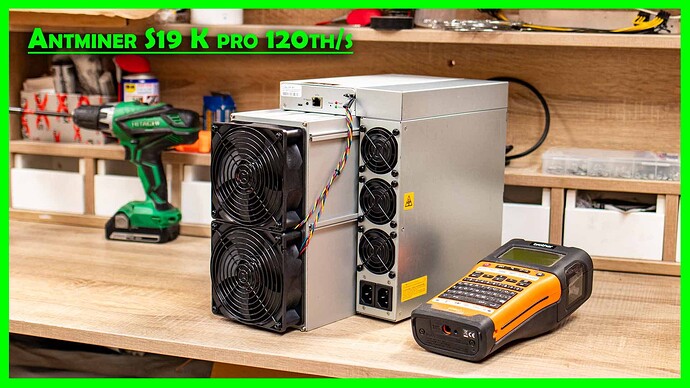 Is the Antminer S19K Pro Mining at Advertised Rates?
After rigorously testing for over few days, I can confirm it's churning out an average of 120 to 122 terahash. Quite impressive and efficient, especially when pitted against giants like the S21. Let's dive into why the S19K Pro might just be the mining juggernaut you're looking for.
Power Efficiency and Real-World Performance
While the S19K Pro devours more power than advertised (by about 100 Watts) 23j /ths, it's a small price for the efficiency it offers. Remember, your mileage may vary based on your local climate since these miners can be quite sensitive to ambient temperatures.
Comparing Antminers: S19K Pro vs. S21
Before the much-anticipated Bitcoin halving, one might ponder whether to invest in the S19K Pro or wait for the new kid on the block, the Antminer S21. Priced at 1799euro, the S19K Pro seems like a steal compared to the S21's hefty tag of $3,499 listed on mineshop.eu.
The halving will slash rewards from 6.25 to 3.125 BTC, which means efficiency and cost per terahash are more crucial than ever. Although the S21 is projected to be more efficient, the S19K Pro allows you to start mining immediately, providing a potential head start before the halving reshuffles the profitability deck.


Potential Firmware Upgrades
The stock firmware works fine, but there's buzz about specialized firmware that could boost efficiency even further. Stay tuned for a follow-up review where I'll delve into Luxor's firmware, promising improved thermal design and potentially longer lifespan for the miner.

Mining Profitability: The Numbers Game
Right now, the profitability hovers around break-even, especially for home miners with higher electricity costs. However, buying mining hardware during bear markets can be a strategic move, allowing you to mine and hold crypto, banking on future price increases.

While the S19K Pro is no walk in the park price-wise, it's competitively priced against the efficiency it brings to the table. As the halving approaches, remember the golden rule: Buy hardware when it's less profitable, mine and hold the coins, then sell the hardware during the bull run.

In the game of hashes and watts, the Antminer S19K Pro is a solid player, giving you the flexibility to mine now rather than wait for future models. So, if you're ready to tackle the halving head-on, the S19K Pro might just be your ace in the hole.