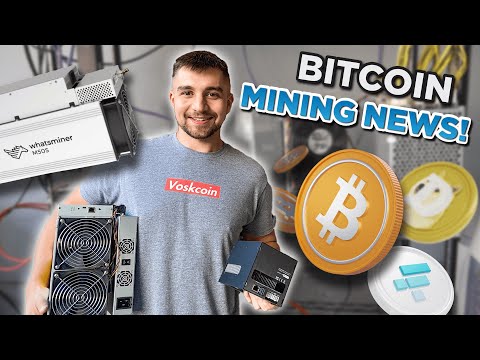 New Bitcoin miners are on the way that could be the most profitable we've ever seen! ETH 2.0 was delayed yet again?! Today we have some insane crypto news, including some of the new best bitcoin miners, ethereum miners rejoicing for ETH merge delay! Sub to VoskCoin http://voskco.in/Sub
This is the best mining rig you can buy in 2022 - https://voskco.in/b300
Get 5% off fees and $10 for FREE! - https://voskco.in/ftx
NESTLE TRIX NFTs - Nestle
Learn more about Cryptal here - Cryptal - Secure and Simple Crypto Exchange
Precog Finance PCOG - Precog Finance
AngryMals NFT - Angrymals - The Quirkiest Play-to-Earn PvP Game
MicroBT is releasing new Bitcoin (BTC) miners that are more efficient than ever specifically the MicroBT Whatsminer M50S and MicroBT Whatsminer M53! Canaan unveiled their Canaan Avalonminer 1266 BTC mining rig! Is it time to be bullish on Bitcoin again?! NFTs are back in the news, and even major corporations are getting into NFT projects! Ethereum 2.0 has been delayed AGAIN? Will the Ethereum merge still happen in 2022? With so much happening in crypto, information and alpha can help you make money, save money or potentially lose money as well.
View the NESTLE NFTs on opensea - https://opensea.io/NESTLEBreakfastCerealsarabia

Timestamps


00:00 Update on new miners, NFTs and much more
00:46 New Bitcoin miners launched
02:45 Intel Blockscale chip for blockchain mining
04:07 Cleanspark adds 500 MW of mining power
06:55 Logan Paul NFT collection
08:28 Coinbase launching Bored Apes NFTs film trilogy
09:14 Nestle getting into NFTs
12:17 Dogecoin to be the internet money?
13:59 Increasing block size - good or bad?
15:28 Ethereum PoS delayed again?!
VoskCoinTalk the VoskCoin forum - VoskCoinTalk - Best cryptocurrency & blockchain forum
VoskCoin Facebook - Redirecting...
VoskCoin Reddit - https://www.reddit.com/r/voskcoin/
VoskCoin Discord Server Invite - VoskCoin
VoskCoin Twitter - https://twitter.com/VoskCoin
VoskCoin Instagram - Login • Instagram
VoskCoin is for entertainment purposes only and is never intended to be financial investment advice. VoskCoin owns or has owned cryptocurrency and associated hardware. VoskCoin may receive donations or sponsorships in association with certain content creation. VoskCoin may receive compensation when affiliate/referral links are used. VoskCoin is home of the Doge Dad, VoskCoin is not your Dad, and thus VoskCoin is never liable for any decisions you make.
Best BTC Miners EVER?! ETH 2.0 Delayed! Bitcoin Mining News