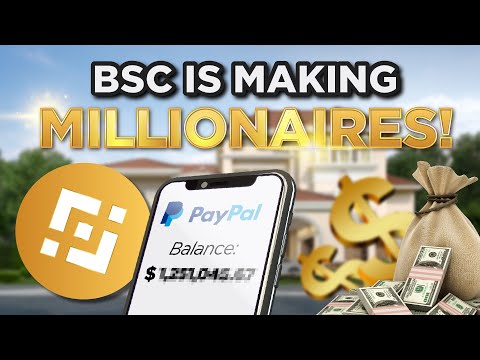 The Binance Smart Chain is making cryptocurrency investors millionaires and BSC is backed by Binance BNB and Binance is pumping 1 BILLION DOLLARs into BSC DeFi and NFTs! Subscribe to VoskCoin - http://voskco.in/Sub
Vetter.ai VETTER token helping crypto investors earn more - Vetter token
Infomatix new INFO token launch! Home
Compass the Bitcoin mining marketplace - Compass — Bitcoin Mining and Hosting
Review the BEST Helium hotspot miners to buy - What is the BEST Helium Hotspot Miner to Buy? | by VoskCoin | VoskCoin | Medium
Bobcat Miner 300 is the BEST Helium mining rig - https://voskco.in/HNTb
I've honestly made a lot of money thanks to Binance, BNB, and the Binance Smart Chain BSC and I am really excited to see Pancakeswap launching their NFT marketplace successfully and the fact that Binance is pumping literally a billion dollars into their Ethreum ETH DeFi NFT blockchain competitor clone Ethereum killer copy cat BSC Binance Smart Chain – let's review how BSC will continue to be a huge crypto investment!
Binance US buy BNB tokens for BSC - Create a free account | Binance.US
Binance NOT US buy BNB tokens for BSC - Create a free account | Binance

Links!


Pancakeswap CAKE finance BSC - PancakeSwap
Learn how to set up the Binance Smart Chain BSC wallet - Binance Smart Chain Overview & BSC Wallet Tutorial - YouTube
Set up MetaMask with BSC Binance Smart Chain and easily swap BNB tokens! - Metamask Binance Smart Chain Setup Guide & BNB to BSC easy swap! - YouTube
Easy crypto DeFi airdrop eligibility with snapshot page voting - Snapshot

Timestamps


00:00 BSC is on it's way to the moon
03:04 Different Addresses on BscScan
04:50 Cryptocurrency Prices by Market Cap
05:23 Infomax.io
06:08 Binance's $1 Billion Growth Fund
09:26 Zapper.fi Quests
11:32 OpenSea and bananas
11:50 Vetter.io on sale
14:08 OpenSea Will Drop a Token
14:47 PancakeSwap's NFT Market
16:59 Binance in CoinGecko
17:20 Don't miss out on Binance
Join the VoskCoin Telegram group Telegram: Contact @VoskCoingram
VoskCoinTalk the VoskCoin forum VoskCoinTalk - Best cryptocurrency & blockchain forum
VoskCoin Facebook - https://www.facebook.com/VoskCoin/​​
VoskCoin Reddit - https://www.reddit.com/r/voskcoin/​​
VoskCoin Discord Server Invite - http://voskco.in/discord​​
VoskCoin Twitter - https://twitter.com/VoskCoin​​
VoskCoin Instagram - https://www.instagram.com/voskcoin/​​
VoskCoin is for entertainment purposes only and is never intended to be financial investment advice. VoskCoin owns or has owned cryptocurrency and associated hardware. VoskCoin may receive donations or sponsorships in association with certain content creation. VoskCoin may receive compensation when affiliate/referral links are used. VoskCoin is home of the Doge Dad, VoskCoin is not your Dad, and thus VoskCoin is never liable for any decisions you make.
Binance Smart Chain is making Crypto Investors Millionaires!