Binance is challenging Ethereum to become the best blockchain for Decentralized Finance DeFi, Yield Farming, and Liquidity Mining! Let's review Binance Smart Chain and how to use the Binance Smart Chain Wallet! Buy or sell Binance BNB BSC coin here - https://goo.gl/SqkArZ
Subscribe to VoskCoin, the BEST DeFi crypto YouTube channel! http://voskco.in/Sub
Binance US cryptocurrency exchange - http://voskco.in/Binance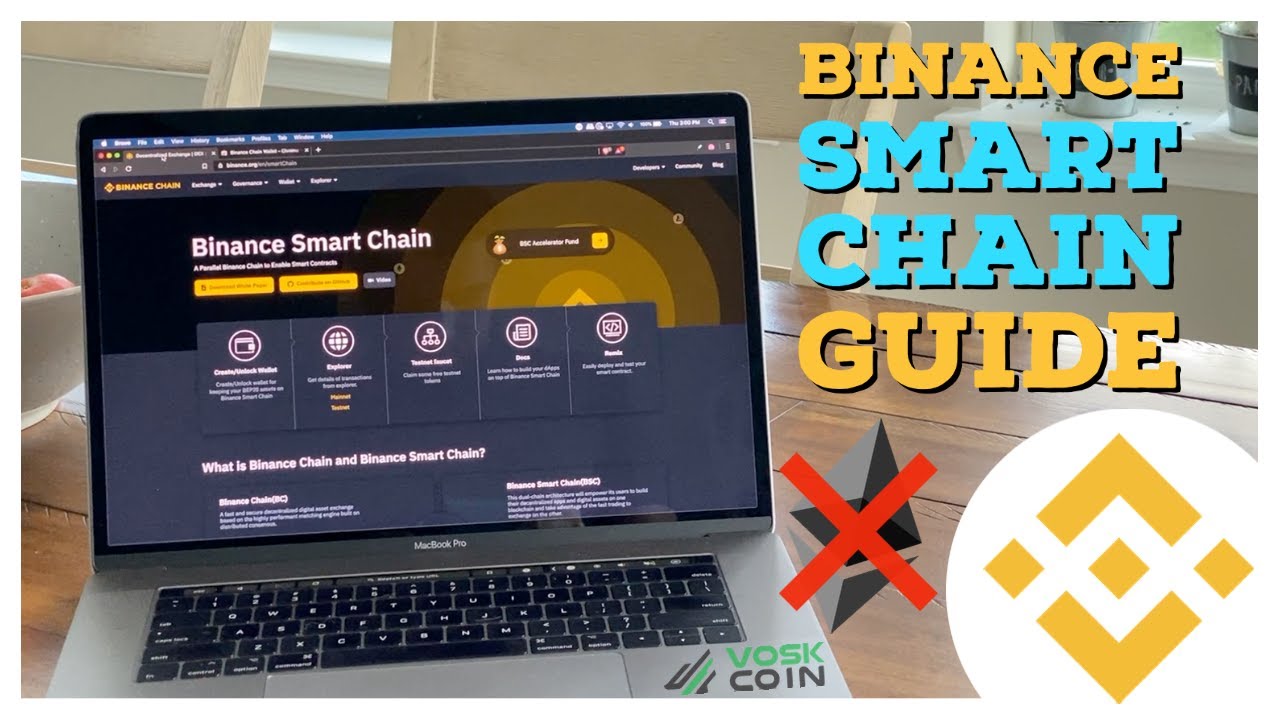 Decentralized Finance is more popular than ever, and everyone is racing to create the best DeFi blockchains. Binance is investing several million dollars to build the Binance Smart Chain and encourage Ethereum users, DApps, yield farming, and liquidity miners to switch to their BSC blockchain. Binance Smart Chain currently has cheaper gas fees than Ethereum, but that is easy to do when their blockchain is not overloaded, like Ethereums blockchain is, due to the massive success they have found building DeFi platforms. Binance is hoping to replace Ethereum as the best DeFi blockchain, and more and more projects are now building on their Binance Smart Chain!
Let's review Binance, BNB coin, Binance Smart Chain, and how BNB and BSC are different. I will guide you through how to set up the Binance Smart Chain wallet, how to send and receive BNB BEP20 coins, how to use DApps and yield farm on the Binance Smart Chain all with the official Binance Smart Chain wallet!
Yes, we recommend the Binance Smart Chain wallet instead of customizing MetaMask to work with Binance's Smart Chain blockchain.
Links!
Download the official Binance Chain Wallet here - http://voskco.in/bsc
Learn what is the Binance Smart Chain BSC - http://voskco.in/tGum
Binance Smart Chain BSC landing page - http://voskco.in/EfuR
Binance is giving 100 million to DeFi builders on BSC - http://voskco.in/WpFP
Review the top DeFi projects on Binance Smart Chain - http://voskco.in/KmUD
We are yield farming Crossfin CRP and USDY here - http://voskco.in/crossfin
Join the official VoskCoin Telegram VoskCoingram - https://t.me/VoskCoingram
Timestamps!
00:00 Binance BNB, Binance Smart Chain BSC, and best wallet?
01:31 An introduction to Binance Smart Chain BSC
02:35 Binance Smart Chain aims to replace Ethereum for DeFi
03:47 BSC accelerator fund is giving away 100 million to DeFi Developers
04:25 VoskCoin launches official VoskCoin Telegram VoskCoingram
04:46 How to setup the Binance Smart Chain BSC wallet
06:40 Differences between Binance BNB and Binance Smart Chain BSC coins
08:29 How to use the Binance Smart Chain BSC wallet DeFi DApps
13:05 How to add additional assets to Binance Chain wallet BSC
14:21 How to send and receive coins with Binance Smart Chain wallet BSC
15:14 Binance Smart Chain BSC review and wallet setup recap
VoskCoin is for entertainment purposes only and is never intended to be financial investment advice. VoskCoin owns or has owned cryptocurrency and associated hardware. VoskCoin may receive donations or sponsorships in association with certain content creation. VoskCoin may receive compensation when affiliate/referral links are used. VoskCoin is home of the Doge Dad, VoskCoin is not your Dad, and thus VoskCoin is never liable for any decisions you make.