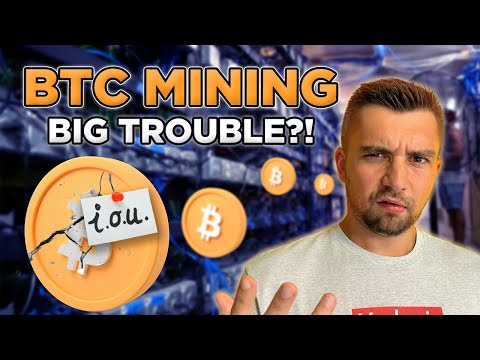 Ethereum mining is DEAD, all eyes are on Bitcoin mining now! Today we'll look at some of the insanity Bitcoin miners are currently facing - from lawsuits to fines, to insolvent mining pools! Is Bitcoin is the best coin to mine without Ethereum?? Subscribe! http://voskco.in/Sub
Minto is a Bitcoin mining alternative - https://minto.finance/
Get free crypto when you sign-up for FTX here - FTX.US & FTX Sign-Up Bonuses — $15 free, 5% off fees & FREE Crypto! - VoskCoin - Medium
Bitcoin miners for sale and in-stock here - Coin Mining Central - UK Cryptocurrency Mining Hardware Supplier
Bitcoin mining is now the only major cryptocurrency to mine since Ethereum has moved away from its Proof of Work algorithm in favor of the Proof of Stake chain. However, there already seems to be trouble in the waters as Poolin suspends all withdrawals from their mining pool amidst "liquidity issues" - despite having more than 18,000 BTC in their wallet? Many Bitcoin miners face backlash and legal action regarding the "wasting" of energy to mine BTC, with some facing Millions of Dollars in lawsuits because of it! Today we break down some of the most important crypto mining news that YOU need to hear, regardless of whether you mine crypto or not!

Articles & Sites:


Mining Pool Poolin Halts Withdrawals - Huge Crisis Ahead?
A comprehensive survey of the current Bitcoin mining lawsuits -
Bitcoin Hashrate Index & profitability - Bitcoin Mining ASICs | HashrateIndex
Should you buy crypto miners now, while they're cheap? - Bitcoin Crypto Miners Are INSANELY Cheap Right Now! - YouTube
If you want to thrive this crypto winter, watch our FULL bear market survival guide! - How to Survive A Crypto Bear Market | Full Guide - YouTube
What I learnt mining crypto for 5 years - I Mined Bitcoin In My HOUSE for 5 Years! Here's What I Learned… - YouTube
Want to start mining crypto? Do this! - Want to Start Mining Crypto? Do THIS! | How To Mine Guide - YouTube

Timestamps


00:00 Bitcoin Miners are in trouble?!
01:15 Mining pool Poolin in trouble
03:29 Is Bitcoin mining still profitable?
05:23 Best place to buy Bitcoin miners?
08:09 GMO internet vs Whinstone US Lawsuit
08:35 Crusoe Energy vs Alkane Midstream Lawsuit
09:19 GeoBitmine petition to the Idaho Utilities Authority
10:37 Adams County vs Renegade Oil & Gas Company
Follow us on our official social media accounts! - VoskCoin | Twitter, Instagram, YouTube, Facebook | Linktree
VoskCoin is for entertainment purposes only and is never intended to be financial investment advice. VoskCoin owns or has owned cryptocurrency and associated hardware. VoskCoin may receive donations or sponsorships in association with certain content creation. VoskCoin may receive compensation when affiliate/referral links are used. VoskCoin is home of the Doge Dad, VoskCoin is not your Dad, and thus VoskCoin is never liable for any decisions you make.
Bitcoin and BTC Mining is in TROUBLE?! Huge Crypto News!