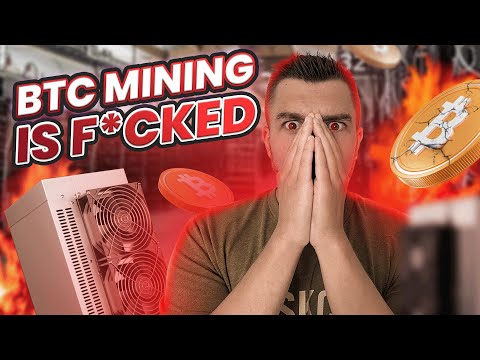 Bitcoin miners are F*CKED seriously, if Bitcoin doesn't go up in price, when the Bitcoin halving happens, most BTC ASIC mining rigs will not be profitable, and depending on your electricity rate Bitcoin mining profitability is already in the dumps compared to last year… Buy this miner instead of a BTC miner! Evergreen Miner v2.5 VoskCoin Tails Edition
Buy a Bitcoin miner here if you dare! Most Trusted Cryptocurrency Mining Hardware Store - CryptoMinerBros
Buy a hard drive miner here! Evergreen Miner v2.5 VoskCoin Tails Edition
use code VOSKCOIN to save some coin at both
Over $20m in new Bitcoins are still mined everyday, but with the Bitcoin price under $30,000 and a BTC halving cutting the amount of Bitcoins mined per day in half less than a year away the future for Bitcoin miners is looking BAD! Bitcoin needs to triple in price for the average Bitcoin miners to turn a profit, some major Bitcoin mining farms are very competitive with cheap electricity rates but the game continues to change as the new Bitmain S21 bitcoin miner and Whatsminer M50 and M60s increase ASIC miner efficiency. All I am saying is beware and be aware.

Timestamps


00:00 This is going to be bad!
00:39 The miners I own
02:28 The Bitcoin halving of 2024
03:52 Situation of big Bitcoin mining farms
05:23 New Bitcoin miner is coming
06:12 How to buy a Bitcoin miner?
07:52 Which Bitcoin miners will survive the halving?
11:05 Bitcoin network hashrate analysis
12:44 My perspective on the Bitcoin halving
15:22 How will the Bitcoin halving affect me?
Follow us on our official social media accounts! - VoskCoin(VoskCoin) - Latest Storefront, Videos Links
VoskCoin is for entertainment purposes only and is never intended to be financial investment advice. VoskCoin owns or has owned cryptocurrency and associated hardware. VoskCoin may receive donations or sponsorships in association with certain content creation. VoskCoin may receive compensation when affiliate/referral links are used. VoskCoin is home of the Doge Dad, VoskCoin is not your Dad, and thus VoskCoin is never liable for any decisions you make.
Bitcoin Miners are F*CKED!