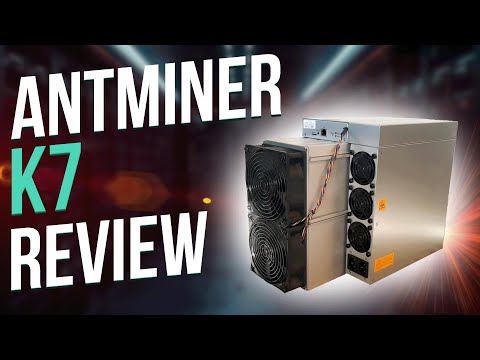 This new cryptocurrency miner, the Bitmain Antminer K7 CKB ASIC mining rig, is supposed to earn $19/day, but our mining profitability is drastically beating that number. Let's review the Bitmain Antminer K7! You can buy this miner here - https://voskco.in/cmb
Crypto Miner Bros sells this Bitmain Antminer K7! https://voskco.in/cmb
CryptoMinerBros also sells other ASIC miners!
PEGAPool, an environmental-friendly BTC mining pool! - PEGA Pool - Eco Friendly Bitcoin Mining Pool
Learn about the BEST mining rig to buy in 2023! The Best Cryptocurrency Miner for 2023 | by Miss Vosk (Alexa) | VoskCoin | Feb, 2023 | Medium
I am mining CKB in my Digital Shovel minipod! Digital Shovel x VoskCoin
Mention you saw the Digital Shovel mining container on VoskCoin for a discount!
Nervos Network is an up-and-coming cryptocurrency that has committed to being mineable and now the biggest ASIC miner manufacturer Bitmain has released the most profitable mining rig you can buy in 2023. Crypto never has a dull moment so let's review the Bitmain Antminer K7 and if this CKB eaglesong mining rig is worth buying.
Don't forget to subscribe to VoskCoin! VoskCoin - YouTube
Timestamps!
00:00 This miner is beating profitability projections
01:15 The Bitmain Antminer K7, what does it mine?
01:40 How much CKB is mined per day
02:23 What is Nervos Network?
03:11 Bitmain Antminer K7 is the most powerful CKB miner yet!
04:06 Pega Pool An Eco-Friendly BTC mining pool!
04:35 Price and CKB Market Cap
05:00 Antminer K7 Models and Prices
06:05 Bitmain Antminer K7 expected profitability
06:15 My profitability with the Bitmain Antminer K7
09:37 Mining could be a super profitable venture
VoskCoin is for entertainment purposes only and is never intended to be financial investment advice. VoskCoin owns or has owned cryptocurrency and associated hardware. VoskCoin may receive donations or sponsorships in association with certain content creation. VoskCoin may receive compensation when affiliate/referral links are used. VoskCoin is home of the Doge Dad, VoskCoin is not your Dad, and thus VoskCoin is never liable for any decisions you make.
Bitmain Antminer K7 Review and CKB Mining Profitability