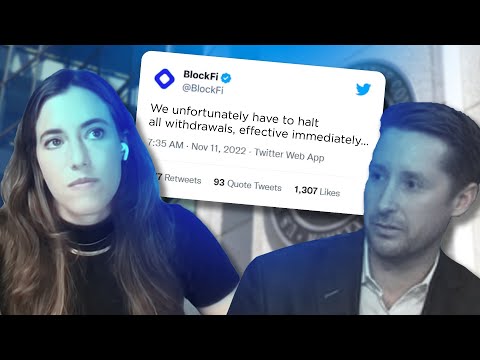 BlockFi Paused Withdrawals…Here's What Happened and What's Next - BlockFi was one of the most popular lending services, allowing cryptocurrency users to earn interest on their coins, until they froze their accounts after the FTX Ponzi scheme imploded… what now? Sub - http://voskco.in/Sub
SBF is a scammer, and FTX was a fraud - here's what happened - Unraveling the LIES & Deception of FTX and Scam Bankrun-Fraud - YouTube
FTX collapsed, how did this ponzi scheme go so far? FTX is turning out to be the biggest PONZI SCHEME SCAM EVER - YouTube
Direct link to BlockFi - www.blockfi.com
Link to BlockFi Twitter - https://twitter.com/blockfi
As FTX filed for bankruptcy along with all of its subsidiaries, the contagion of SBF and the FTX funds continues to spread. BlockFi, who were recently bailed out by FTX US with a credit line of $400m, appears to have been significantly affected by the collapse. With so much at stake, is a recovery plan in place for BlockFi, will Flori Marquez and Zac Prince be able to secure an 11th hour bailout or buyout? What is the future for this crypto lending platform, the latest BlockFi News. Here is everything I've been able to uncover on BlockFi and whether they seem to be a scam, if BlockFi is insolvent, or if BlockFi will be able to survive their paused withdrawals and at a minimum restore customers funds.

Read the investigation threads here:


Read the latest BlockFi Update (14 Nov) here -
BlockFi can no longer operate as usual amidst FTX fallout - FTX collapse: BlockFi pausing client withdrawals; can no longer operate its business as usual | Fortune
CZ, CEO of Binance, starts a recovery fund for the crypto industry - Binance Starts Recovery Fund for Crypto Projects Facing Liquidity Crisis
Zac and Flori from BlockFi -
https://twitter.com/BlockFiZac
https://twitter.com/FounderFlori

Timestamps


0:00 BlockFi was Affected by FTX Collapse
1:54 Flori BlockFi Co-Founder Says Everything is Fine?
2:20 Withdrawals Paused at BlockFi
4:05 BlockFi November 14 Update Breakdown
9:15 Will CZ save us with the industry recovery fund? Or is he the next SBF?
10:37 FTX Files for Bankruptcy after $10B Lost
11:10 No BlockFi in NY
11:28 Does BlockFi have insurance?
12:12 Gemini & Genesis Trading Lost $175M + Gemini Earn
13:06 Coinbase BitLicense in NY
13:14 Gemini Earn Transfer Went Through
13:50 How BlockFi Impacted VoskCoin
Follow us on our official social media accounts - VoskCoin | Twitter, Instagram, Facebook | Linktree
VoskCoin is for entertainment purposes only and is never intended to be financial investment advice. VoskCoin owns or has owned cryptocurrency and associated hardware. VoskCoin may receive donations or sponsorships in association with certain content creation. VoskCoin may receive compensation when affiliate/referral links are used. VoskCoin is home of the Doge Dad, VoskCoin is not your Dad, and thus VoskCoin is never liable for any decisions you make.
BlockFi Paused Withdrawals…Here's What Happened and What's Next