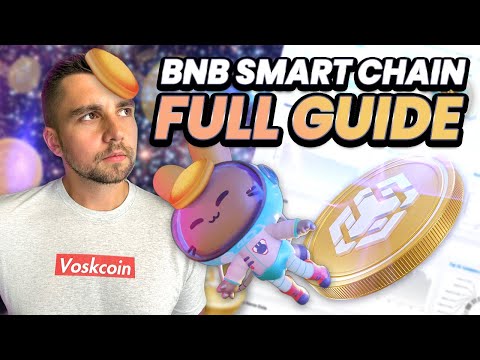 BNB Smart Chain Guide - Metamask & Binance Wallet Tutorial using Pancakeswap PancakeSwap Here's everything you need to know to get started making trades, earning cryptocurrency tokens, and more on BSC!
Turn your dollars into BNB with Binance US - Create a free account | Binance.US
Pancakeswap is the best decentralized exchange on BNB - PancakeSwap
Read how to add the BNB Chain to MetaMask - How to Add Binance Smart Chain to MetaMask | by Brittany Dowd | VoskCoin | Medium
MetaMask is the most popular crypto browser wallet and the Binance BNB smart chain has established itself with billions of dollars of total value locked on the blockchain. You can use the Binance wallet to convert BNB from the main chain or beacon chain onto the bnb smart chain or commonly referred to as its original name the binance smart chain BSC but other than that the Binance wallet is a poor experience. Pancakeswap is the leading decentralized exchange DEX on BSC, and I'll show you how to trade, provide liquidity, farm, and even buy NFTs on the BNB smart chain!

Links


Download MetaMask, the best wallet for DeFi dApps - MetaMask - Chrome Web Store
Official Binance Smart Chain Metamask setup guide - https://voskco.in/ItNn
Download the official Binance Chain Wallet here - Binance Wallet - Chrome Web Store
PooCoin allows you to check any BNB coin stats - https://poocoin.app/
PancakeSwap, the most popular BNB dApp - PancakeSwap
Learn what the BNB Smart Chain is here - https://voskco.in/tGum
Binance Smart Chain BSC landing page - BNB Smart Chain: A Parallel BNB Chain to Enable Smart Contracts
Review the top DeFi projects on Binance Smart Chain - https://voskco.in/KmUD

Timestamps


00:00 How to use the bnb smart chain?
01:04 What is the BNB smartchain?
02:05 How to use the BNB smartchain with metamask
04:51 Using the binance wallet to swap BNB tokens
05:58 Pancake swap is the biggest DEX on the BNB smartchain
06:55 trading on the Ethereum chain is way too expensive!
07:55 How to farm and liquidity mine on pancakeswap
10:49 How to buy NFTs on pancakeswap
11:42 Pancakeswap now has a v3 version
13:16 How is the Binance chain doing?
15:07 Will there be a new meme coin craze?
16:00 Be careful out there!
Follow us on our official social media accounts! - VoskCoin | Twitter, Instagram, Facebook | Linktree
VoskCoin is for entertainment purposes only and is never intended to be financial investment advice. VoskCoin owns or has owned cryptocurrency and associated hardware. VoskCoin may receive donations or sponsorships in association with certain content creation. VoskCoin may receive compensation when affiliate/referral links are used. VoskCoin is home of the Doge Dad, VoskCoin is not your Dad, and thus VoskCoin is never liable for any decisions you make.
BNB Smart Chain Guide - Metamask & Binance Wallet Tutorial using Pancakeswap