Thanks to VOSK for setting the hook and helping me to think outside the box!
Order confirmed! Now the wait!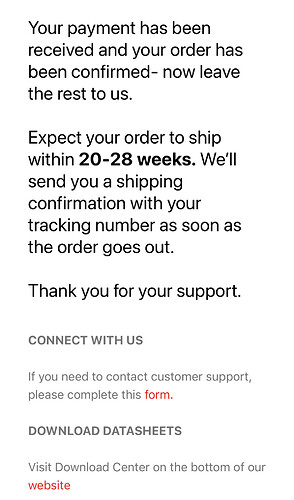 Glad to see they've revised their timeframes they tell people to 5-7 months instead of telling them 4-5. They've been taking 6 months to ship since early summer and it doesn't look like that is improving. Just watch their Twitter for ship dates vs ordered dates.
I have 3 ordered… I spent some time on the helium explorer site and hotspotty which helped inform which antennae to buy for each unit… best of luck I have the same 20 to 28 wait from dec 29 or so…
Now you gotta invest in the proper antenna. Make sure you get the right one for your location!
I've been following the despatch times on these since purchasing at the end of July and it's looking way longer than 5 to 6 months. Some weeks they are only shipping up to 2000 units where's back in Oct they were shipping up to 40k units a week.
Yep, supply chain issues,

Thanks, you find through Bobcat or anther site? I'm a new kid on the block.
I have a Sensecap miner. Bought my antenna from eBay but you can get those anywhere. Just make sure you get the right antenna for your setup location. Your stock antenna probably won't do unless you're in an apartment building or something with other miners close by
I ordered a mile sight miner. Will be receiving on Wednesday.
Got my two antennae today… now just uhhhhh 4 to 5 mo tha wait lol
Where did you find the ug65 if I may ask?
I was wanting to get some as I have many hosting locations to pick them. I checked the map and there are only 2 others in my area.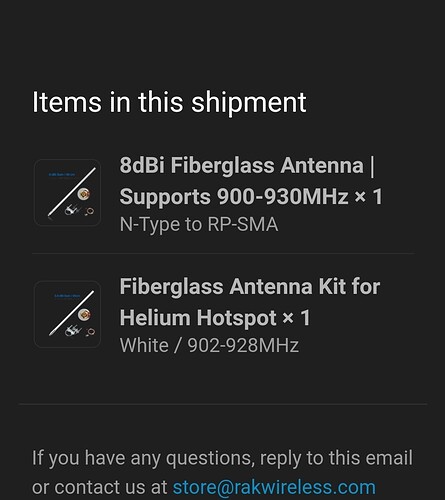 I've got some distance to cover and I'll try out a few antennae until I can get 15 witnesses regardless of which location… hotspotty and helium explore will help you narrow in on a good starting point for distance to adequate witnesses
fastminers. It's out of stock now. Was lucky to check when it was available.
Can antenna be swapped at any time ?
Can't see why not… but my only experience with them is buying them and now waiting til they show up… all I did was research via YouTube the physics of antennae and fooled around in hotspotty and helium explorer… im pretty confident I'll hit all targets necessary on all 3 miners… we'll see
Low Loss coax apparently a good idea too fwiw
nice and was about to buy them the other day but started grinding and refreshing eBay hoping to find a quick buy instead of waiting 7 months.
but now with monitoring eBay for a couple days, the sellers are fishy as hell with accounts that were inactive for over a year then suddenly started selling hellium miners so i belive i might revert back to similar to what you did and buy via offical website
There is other miners in stock now. Why wait for bobcat. Panther x2, milesight. Looks like these will flood market in next two months. Not even sure it would be worth after 6 months