Hey Guys!
I've got this device since last week, already plugged in, and it's mining, the set up procces was a bit missleading, just wanted to make sure that no one have the same problem as me.
To put the miner in paring mode after beeing pluged in for 3-4 min, as the manual sets, you should press the reset button on the back for 4-5s, once you done that, the device stop blinking and you're able to pair succesfully.
About my location, I'm in a very populated area, and right now my reward scale is only 0.3, right now i'm on a tile alone, and i'm on the top of a hill, so that's giving me a good profitability, for my scale ratio.
The device was send from heliummart → https://heliummart.com/, they were fast! and the device arribed with no import taxes or anything like that.
I'll leave now a photo of my current set up, in the future if the helium coin increases in value, i'll probably put a good antena on the roof of my house, but right now as the profitability is, I think it's not worth the money, i want to first pay off the device, then we'll see the antena.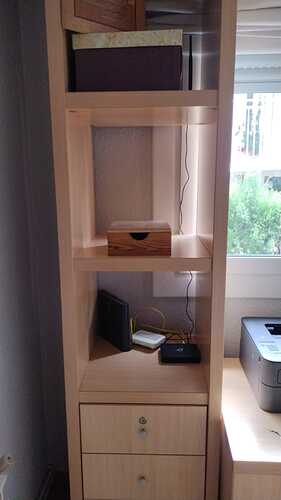 You can see the miner in the bottom right and the antena is on the top shelf, near the window.
Thank you so much for your attention, if you've any doubts or problems with the miner, let me know if I can help!
See you arround!
Xavi