I'm building a solar powered Bitcoin and crypto mining farm! It's a huge project and I'm currently just in the planning phase. Here's my rough build plans for building the VoskCoin solar mining farm!
Subscribe to VoskCoin for the solar mining farm! http://voskco.in/Sub
Watch the original VoskCoin Solar Powered Mining Farm video where we talk about the initial concept, inspiration, and how we have already closed on 50 acres! https://www.youtube.com/watch?v=vgMe1tTHpH0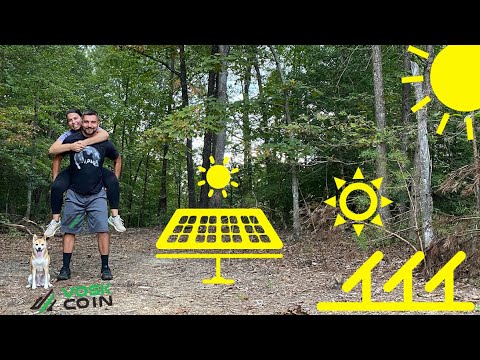 It's so incredible to have finally reached the point where I can build something exciting and unique, and that will be a new VoskCoin mining farm powered by… the sun! I will be mining Bitcoin with ASIC miners, and Ethereum with GPU miners, along with numerous other cryptocurrencies using the best mining rigs I can buy and build. I'm still exploring all of the best options for the best solar panels, and solar inverters such as the Sunnyboy string inverter. I am still not sure if I will use a battery set up so I can continue mining at night or if I will simply power the mining rigs off with the sun. Let's review the current rough build plans for this solar Bitcoin and Ethereum mining farm!
I want your input and advice for building a solar-powered Bitcoin mining farm on VoskCoinTalk! VoskCoin Solar Powered Crypto Mining Farm Build Plan! ☀️ Input Needed!
Links!
Solar-powered roof shingles, the tesla roof - http://voskco.in/tsla1
Tesla powerwall, their sleek solar power battery - http://voskco.in/tsla2
Sunnboy string inverter for solar power - http://voskco.in/sun1
Solar panels recommended as best value - http://voskco.in/sun2
Digitex City - play, trade, and connect - http://voskco.in/dgtx2
Watch the biggest and best DIY solar mining farm tour - https://www.youtube.com/watch?v=GrQ3-q2K03Q
Watch the original crazydane solar mining farm interview - https://www.youtube.com/watch?v=V2fhHdeN_5E
VoskCoin Facebook - https://www.facebook.com/VoskCoin/
VoskCoin Reddit - https://www.reddit.com/r/voskcoin/
VoskCoin Discord Server Invite - http://voskco.in/discord
VoskCoin Twitter - https://twitter.com/VoskCoin
VoskCoin Instagram - https://www.instagram.com/voskcoin/
VoskCoin is for entertainment purposes only and is never intended to be financial investment advice. VoskCoin owns or has owned cryptocurrency and associated hardware. VoskCoin may receive donations or sponsorships in association with certain content creation. VoskCoin may receive compensation when affiliate/referral links are used. VoskCoin is home of the Doge Dad, VoskCoin is not your Dad, and thus VoskCoin is never liable for any decisions you make.