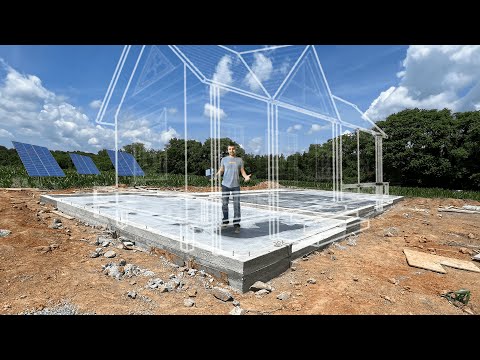 I've been building VoskCoin for over 5 years and now finally we are building a dedicated building not only for our Crypto YouTube channel but also to stage and build out a solar powered Bitcoin mining farm! Sub! http://voskco.in/Sub
Get $15 for free and 10% off your fees! - https://voskco.in/ftx
What should we name the VoskCoin HQ?! Crypto Building Update! (We Need Your Help!)
The BEST solar powered crypto mining farm tour with Crazy Dane! - The BIGGEST DIY Bitcoin & Cryptocurrency SOLAR MINING FARM Tour!! ☀ - YouTube
I became obsessed with bitcoin mining, ethereum mining, and just crypto mining in 2017 because you were able to take hardware and turn it into income producing machines that mine 24/7 and basically start earning you cryptocurrencies and thus money while you sleep. Earning passive income with robotic employees is the coolest thing! Once you pay off a mining rig, and pay the electric bill it's essentially a money printing machine. Solar power is a way to generate electricity endlessly yourself and instead of making electric companies rich, you pay off the solar panel investment and then you have a green Bitcoin mining farm making you green – money and coins! Our 100 Acre crypto farm is finally making progress and so is the VoskCoin HQ! So let's take a look at everything from the new house, VoskCoin HQ, and the mining farm itself!
My most recent mining farm update - How I lost $10,000, $20,000, AND if I'm STILL Building a Solar Bitcoin Mining Farm?? - YouTube
Learn how I lost $20,000 with our 50 acre lot for a solar bitcoin mining farm - I Lost $20,000 trying to build a Solar Powered Bitcoin Mining Farm - YouTube
My rough plans for building a solar-powered btc crypto mining farm - Building a SOLAR POWERED Bitcoin Crypto Mining Farm | My Rough Plans - YouTube
Join the solar mining farm build plan discussions on VoskCoinTalk the best cryptocurrency forum! - VoskCoin Solar Powered Crypto Mining Farm Build Plan! ☀️ Input Needed!

Timestamps


00:00 The solar mining farm is taking form!
00:55 Crypto mining has taken over our house
02:19 Creating a new place for merch mining and testing
03:31 Mining Bitcoin with solar power!
05:05 Unexpected hurdles for building the Solar ming farm
06:31 The Bear market - a good time to build!
07:30 What will we be doing in this new crypto building
08:32 Crypto mining Van life
08:50 A place to create even better content
10:42 Getting electricity for the miners
11:31 Elon Musk and Starlink for remote mining
12:45 What should we call this building?
Follow us on our official social media accounts - VoskCoin | Linktree
VoskCoin is for entertainment purposes only and is never intended to be financial investment advice. VoskCoin owns or has owned cryptocurrency and associated hardware. VoskCoin may receive donations or sponsorships in association with certain content creation. VoskCoin may receive compensation when affiliate/referral links are used. VoskCoin is home of the Doge Dad, VoskCoin is not your Dad, and thus VoskCoin is never liable for any decisions you make.
Building VoskCoin HQ for Solar Bitcoin Mining and Crypto YouTube!