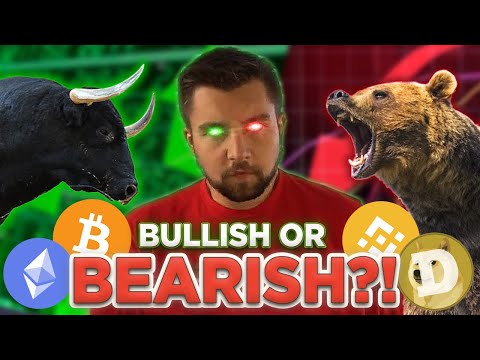 Are you still bullish on Bitcoin, Ethereum, Dogecoin, and other cryptocurrencies or has the recent dip caused you to turn bearish and be worried prices will continue down… Let's review if you should BUY or SELL crypto and stocks now… Subscribe to VoskCoin - http://voskco.in/Sub
Bitcoin solar-powered mining farm video tour! The BIGGEST DIY Bitcoin & Cryptocurrency SOLAR MINING FARM Tour!! ☀ - YouTube
Review the BEST Helium hotspot miners! What is the BEST Helium Hotspot Miner to Buy? | by VoskCoin | VoskCoin | Medium
Order the Bobcat Miner today! https://voskco.in/HNTb
Bitcoin continues to dump and top altcoins like Ethereum and Dogecoin are dumping harder. DOGE investors claim to have diamond hands, but many crypto investors are now in the negative and that's an awful feeling. The market sentiment, especially from a retail investing point of view is turning very bearish, and the BTC market continues to sell off and yet so many people claim they are bullish but then who is selling all of their Bitcoin?? Who is selling all of their Ethereum?! Who is putting their DOGE up for adoption and selling all of their Dogecoin??? A lot of people wanted to target Ethereum and ESPECIALLY Bitcoin for being mineable and act like BTC mining was destroying the world and thinking their altcoins could survive Bitcoin crumbling down in price… I'm just wondering if Doge prematurely ended this crypto bullrun… let's review WTF is even going on…

Timestamps


00:00 How can you find projects/companies that can survive bear markets?
02:15 Disclaimer & giveaways taking place
02:52 Current bear trend & bitcoin mining ban
04:07 Solar mining farm update
07:30 What crypto projects can survive a bear market? (ADA, BNB, 1INCH)
13:20 Kits.com stock review
15:45 The future of the eye-wear industry
17:20 Kits.com are progressing quick
19:33 How to find crypto & stock gems?
VoskCoinTalk the VoskCoin forum - http://voskco.in/forum
VoskCoin Facebook - VoskCoin
VoskCoin Reddit - https://www.reddit.com/r/voskcoin/
VoskCoin Discord Server Invite - http://voskco.in/discord
VoskCoin Twitter - https://twitter.com/VoskCoin
VoskCoin Instagram - https://www.instagram.com/voskcoin/
VoskCoin is for entertainment purposes only and is never intended to be financial investment advice. VoskCoin owns or has owned cryptocurrency and associated hardware. VoskCoin may receive donations or sponsorships in association with certain content creation. VoskCoin may receive compensation when affiliate/referral links are used. VoskCoin is home of the Doge Dad, VoskCoin is not your Dad, and thus VoskCoin is never liable for any decisions you make.
Should you still buy cryptocurrencies or is it the 2021 bitcoin doge crypto bear market?!