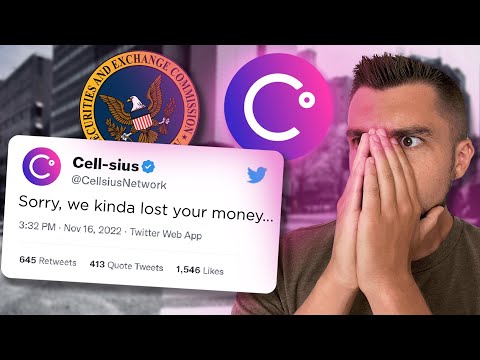 Celsius went bankrupt long before the FTX contagion began to spread - but amidst the most recent collapse, what is in store for their clients who are still owed money? Unfortunately, the FTX bankruptcy is even more bad news for Celsius crypto users… Subscribe - https://voskco.in/sub
Direct link to Celsius - https://celsius.network/
If you were impacted by Celsius, file a claim here - Celsius
Custody your own crypto coins or don't have them - https://voskco.in/trezor
Ledger is another hardware wallet - Ledger Nano X - Secure your crypto | Ledger
Many people trusted crypto lending apps over the past year. Of those that did, 1.7 million were scammed by Celsius and their crypto Ponzi. From a dodgy CEO to an even dodgier executive, the writing was on the wall for Celsius from the beginning. With FTX and Alameda having come crashing down, the contagion has reached the Celsius bankruptcy filing as well. How will this affect those who lost crypto upon Celsius collapsing earlier this year? What is in store for the crypto space? Let's find out.
My painful personal experience with this recent cryptocurrency crash - Cryptocurrency saved and then ruined my life... - YouTube

Read the investigation threads here:


Alex Mashinsky withdrawals get priority over customers? -
Celsius is Owed $12M by Alameda Research, Newest Member of the "Bankrupt Crypto Club"
Crypto bankruptcies are convoluted and unprecedented -
Direct link to the Celsius bankruptcy filing -
https://cases.stretto.com/celsius/
Celsius try to get their reorganization plan extended amidst bankruptcy - Bankrupt Crypto Lender Celsius Files Motion to Extend Submission Time for Reorganization Plan
Celsius wants to turn their debt into a new crypto? -
https://www.cnbc.com/2022/09/23/celsius-has-a-hail-mary-bankruptcy-plan-turn-its-debt-into-a-new-cryptocurrency-.html
Tax Implications of the Celsius Platform Failure -
Tax Implications of the Celsius Platform and Terra Protocol Failures

Timestamps


00:00 What happened to crypto lender Celsius?
00:51 1.7 million people got scammed!
01:01 Alex Mashinsky the CEO of Celsius
01:45 Celsius scandals
02:32 How FTX affected Celsius' bankruptcy
03:25 Crypto bankruptcy is complicated
05:03 Celsius shareholders are denied Committee
06:37 Celsius will turn their debt into a new coin?
07:44 The Claims market and how that works!
08:28 How taxes work on a bankrupt crypto lender?
Follow us on our official social media accounts - VoskCoin | Twitter, Instagram, Facebook | Linktree
VoskCoin is for entertainment purposes only and is never intended to be financial investment advice. VoskCoin owns or has owned cryptocurrency and associated hardware. VoskCoin may receive donations or sponsorships in association with certain content creation. VoskCoin may receive compensation when affiliate/referral links are used. VoskCoin is home of the Doge Dad, VoskCoin is not your Dad, and thus VoskCoin is never liable for any decisions you make.
Celsius Crypto Lending Ponzi Bankruptcy just got WORSE!