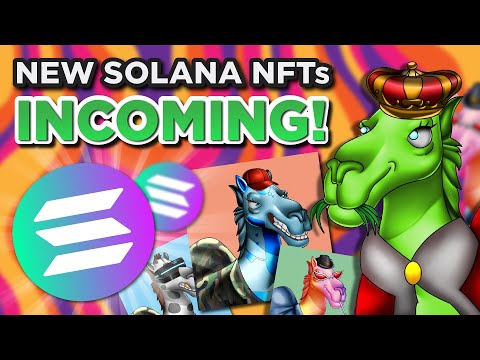 Coinbase and FTX are launching NFT marketplaces along with new NFT drops, many NFT investors are becoming millionaires thanks to Non-Fungible Tokens on the Solana SOL blockchain and an exciting new NFT drop minting Psychedelic Camels NFT! Subscribe to VoskCoin - http://voskco.in/Sub
Psychedelic Camels NFT drop! Psychedelic Camels
Join Coinbase and get $10 free! https://voskco.in/coinbase
Get $250* for free with BlockFi - BlockFi | Get Up To $250 In Bonus BTC
Compass sells ASIC miners - Compass — Bitcoin Mining and Hosting
Review the BEST Helium hotspot miners to buy - What is the BEST Helium Hotspot Miner to Buy? | by VoskCoin | VoskCoin | Medium
Bobcat Miner 300 is the BEST Helium mining rig - https://voskco.in/HNTb
Many crypto investors underestimated NFTs and now even NFT enthusiasts, artists, creators, collectors, and simply investors are underestimating blockchains that are way better than Ethereum as far as transaction fees go like Solana SOL a better version of Ethereum for NFTs AND the Phantom wallet for Solana SOL NFTs is so much better than Metamask! Let's review a hot new NFT drop on Solana Psychedelic Camels NFTs! Coinbase is launching an NFT marketplace and FTX supports NFTs basically, it's NFT season for crypto investors!
Join the Coinbase NFT waitlist! https://voskco.in/cbnft
Psychedelic Camels NFTs Discord! Psychedelic Camels NFT
FTX NFTs - FTX
FTX US NFTs! FTX US
Phantom Solana NFT wallet - Phantom - A friendly Solana wallet built for DeFi & NFTs
Psychedelic Camels NFT Twitter - https://twitter.com/PsyCamelsNFT
My new NFTs public address and account on opensea - https://voskco.in/oNFTS

Timestamps


00:00 Solana NFTs are blowing up right now!
01:44 Different perspectives on NFTs
02:40 Coinbase is going to open an NFT marketplace
04:04 FTX.us and the Solana NFT space
06:04 Psychedelic Camels and their NFT drop
08:13 Camel Roadmap
10:38 Frequently asked questions Psychedelic Camels
12:45 NFTs are really hot right now! Don't miss it
VoskCoinTalk the VoskCoin forum - VoskCoinTalk - Best cryptocurrency & blockchain forum
VoskCoin Facebook - Redirecting...
VoskCoin Reddit - https://www.reddit.com/r/voskcoin/
VoskCoin Discord Server Invite - VoskCoin
VoskCoin Twitter - https://twitter.com/VoskCoin
VoskCoin Instagram - Login • Instagram
VoskCoin is for entertainment purposes only and is never intended to be financial investment advice. VoskCoin owns or has owned cryptocurrency and associated hardware. VoskCoin may receive donations or sponsorships in association with certain content creation. VoskCoin may receive compensation when affiliate/referral links are used. VoskCoin is home of the Doge Dad, VoskCoin is not your Dad, and thus VoskCoin is never liable for any decisions you make.
Coinbase and FTX supporting Solana NFTs?! New SOL NFT drop!