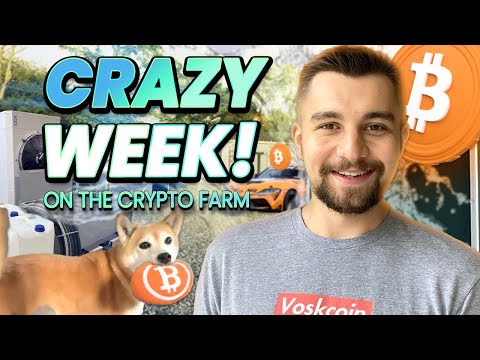 Another crazy week at the VoskCoin mining farm, originally designed around Bitcoin mining with some altcoin mining like Dogecoin and Kaspa, but now we are expanding into immersion mining and filling out our Hard Drive Mining farm! I have more HDD miners coming too - shop – Evergreen
Evergreen Miners are Adding Compression! - shop – Evergreen
Jusey Miners also make hard drive miners - JuseyMiners Chia Miner
Use code VOSKCOIN to save some coin
Check out Digital Shovel's MiniPod Here - Digital Shovel x VoskCoin
Buy mining rigs from CryptoMinerBros - https://voskco.in/cmb
Coin Mining Central also sells miners - https://voskco.in/cmb
Drew Vosk continues to build out the VoskCoin mining farm but uh, that dude is crazy just like this week was at Vosk Coin mining headquarters. Originally focused on Bitcoin mining with an end game goal of solar power for the miners, a heavy focus has been on increasing the mining efficiency and thus profits of the VoskCoin mining farm as well as building out and scaling our hard drive mining farm with more and better HDD miners, basically a DIY data center for farming Chia XCH!

Timestamps


00:00 Crazy week at the crypto farm!
00:49 Immersion mining VoskCoin farm!
01:36 Mining Bitcoin and other cryptocurrencies!
04:17 Troubleshooting the Chia hard drive mining operation
07:17 Chia mining and finding blocks is fun!
09:35 How is the Digital Shovel mining container doing?
11:30 What to do with the original mining shed?
13:07 What is the best crypto mining shed you can make?
14:50 Why build all these different structures?
16:50 Whats next?
18:20 Thanks to you the community!
19:09 Tails the best? Yes.
19:59 What's coming up on the Voskcoin youtube channel?
Follow us on our official social media accounts! - VoskCoin | Twitter, Instagram, Facebook | Linktree
Subscribe to VoskCoin for more passive income tips! https://voskco.in/sub
Follow VoskCoin on TikTok for more shorts! VoskCoin (@voskcoin) | TikTok
VoskCoin is for entertainment purposes only and is never intended to be financial investment advice. VoskCoin owns or has owned cryptocurrency and associated hardware. VoskCoin may receive donations or sponsorships in association with certain content creation. VoskCoin may receive compensation when affiliate/referral links are used. VoskCoin is home of the Doge Dad, VoskCoin is not your Dad, and thus VoskCoin is never liable for any decisions you make.
CRAZY WEEK at the VoskCoin Mining Farm