We have been using Crypto.com's app for almost a year now, and here is our review on CryptoDotCom AND how to unlock the $50 Sign-up bonus with our code - voskcoin - don't delay because it reduces soon! http://voskco.in/cryptocom
Read our full review on Crypto.com's app on the VoskCoin Medium blog where we discuss things like the $50 sign-up bonus, the $25 sign-up bonus, the CRO Visa debit card and staking tiers, their zero-fee trading, free fiat USD deposits and withdrawals, and everything else about their platform!
https://medium.com/voskcoin/crypto-com-review-50-for-free-58b7287170f4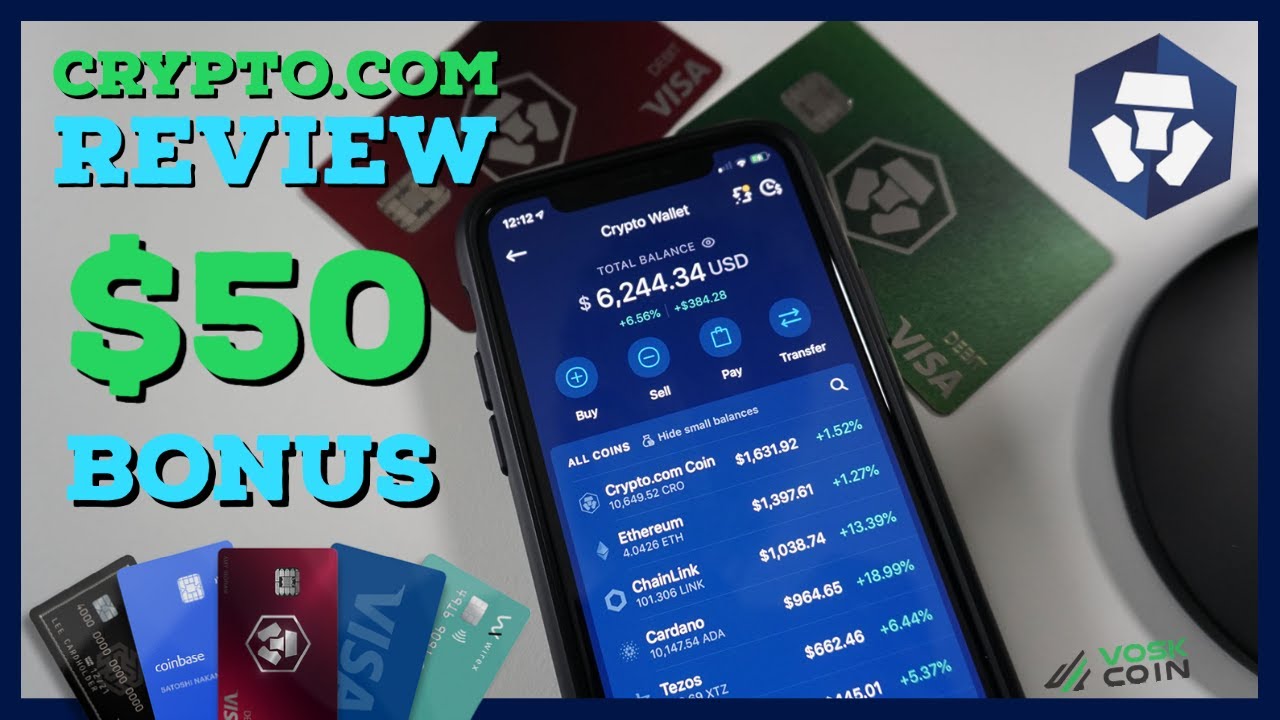 We have talked about the CryptoCom app a lot this year, and it has been a great way for us to earn passive income in cryptocurrency with their Crypto Earn staking platform! Seriously earning 12% interest on stablecoins like USDC is the best in the crypto market currently, and you even get paid out in the coins you stake, so if you are staking Ethereum or Cardano, then you earn free ETH and ADA in interest, essentially. CRO has risen significantly in price this year, and unfortunately has recently decreased in price – however this makes it an excellent opportunity to unlock their sign-up bonus because right now it only costs $90 to buy 1,000 CRO coins and unlock their Ruby debit card. $90 for 1,000 CRO and you get over 500 CRO coins (currently) for free when you do that – that is the best sign-up bonus we have ever seen in cryptocurrency. Anyway, some people think Crypto.com is a scam, and unsafe, whereas other people think it is the best crypto app, exchange, and staking platform in the entire sector – let's review CryptoDotCom!
Learn about the MCO to CRO conversion here - https://www.youtube.com/watch?v=uBCrYJujb3c
Learn how we are using Crypto Earn to stake popular cryptocurrencies like Bitcoin, Ethereum, Tezos, Chainlink, MCO, and CRO along with the $50 code here - Get $50 in Cryptocurrency JUST FOR SIGNING-UP with Crypto.com
Follow VoskCoin on our Medium blog - https://medium.com/voskcoin
Links!
CryptoDotCom 360 million dollar insurance fund - http://voskco.in/cro6
Crypto App VISA debit card levels & benefits - http://voskco.in/cro2
Crypto.com CEO Kris Marszalek profitability statement - http://voskco.in/cro8
How does Crypto.com earn money & work? - http://voskco.in/cro3
Crypto.com CRO cryptocurrency coin marketcap - http://voskco.in/CROcmc
VoskCoin is for entertainment purposes only and is never intended to be financial investment advice. VoskCoin owns or has owned cryptocurrency and associated hardware. VoskCoin may receive donations or sponsorships in association with certain content creation. VoskCoin may receive compensation when affiliate/referral links are used. VoskCoin is home of the Doge Dad, VoskCoin is not your Dad, and thus VoskCoin is never liable for any decisions you make.