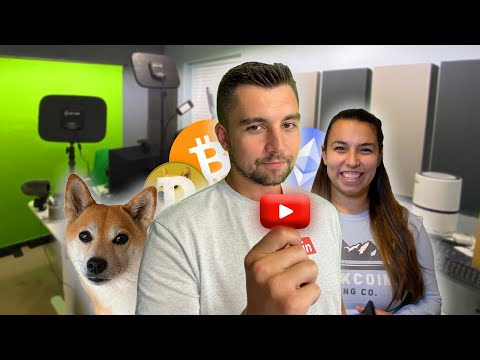 Crypto YouTuber yeah I'm a full-time Crypto YouTuber, crypto investor, and cryptocurrency miner and today I'm going to review with it's like being a full-time YouTuber, and how YouTube truly changed my life. Subscribe to VoskCoin to join me on this crazy crypto journey - http://voskco.in/Sub
Want to work at VoskCoin? Apply now! Google Forms: Sign-in
I earn easy passive income with this Helium miner - https://voskco.in/b300
Here's how to buy the best Helium mining rig - How to Buy Bobcat Miner 300 Helium Hotspot Miner - YouTube
These days a lot of people want to be YouTubers or influencers but this was previously looked down upon, and to be honest, I don't even tell people I am a YouTuber when they ask what my job is. Even more specifically I, Drew Vosk of VoskCoin am a Crypto YouTuber which is an entirely different beast than general YouTube content. YouTubers eventually fall into their niche, your subscribers expect a certain type of content from you, and everyone will forever judge you on every single thing you do, say, wear, and well literally everything. Being a Crypto YouTuber is overwhelming, Bitcoin and the cryptocurrency sector never stop, never sleeps, and is rapidly evolving and growing. VoskCoin was just a side-project for fun but after I lost my full-time job taking care of my sick Shiba Inu dog Tails Vosk I decided to focus full-time on cryptocurrency and Bitcoin mining as well as making Cryptocurrency news and review videos full-time on VoskCoin. Here's my story on what is it really like to be a YouTuber, and even more so, what is it like being one of the most popular Crypto YouTube channels?
Bitcoin and Crypto YouTube BURNOUT - Bitcoin and Crypto YouTube BURNOUT - YouTube
I bought 100 acres to build a solar-powered BTC crypto mining farm - We Bought 100 ACRES to Build a BITCOIN MINING FARM powered by SOLAR PANELS - YouTube
Follow VoskCoin on social media!
VoskCoinTalk the VoskCoin forum - VoskCoinTalk - Best cryptocurrency & blockchain forum
VoskCoin Facebook - Redirecting...
VoskCoin Reddit - https://www.reddit.com/r/voskcoin/
VoskCoin Discord Server Invite - VoskCoin
VoskCoin Twitter - https://twitter.com/VoskCoin
VoskCoin Instagram - Login • Instagram
VoskCoin is for entertainment purposes only and is never intended to be financial investment advice. VoskCoin owns or has owned cryptocurrency and associated hardware. VoskCoin may receive donations or sponsorships in association with certain content creation. VoskCoin may receive compensation when affiliate/referral links are used. VoskCoin is home of the Doge Dad, VoskCoin is not your Dad, and thus VoskCoin is never liable for any decisions you make.
Crypto YouTuber