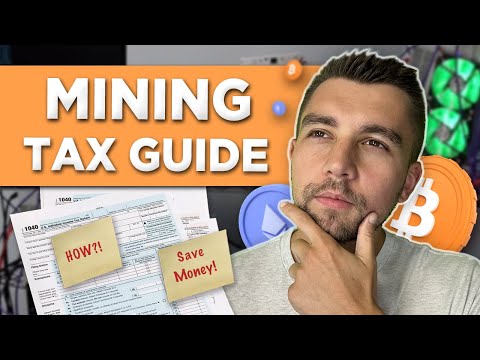 How do crypto taxes work? What do Bitcoin miners and altcoin cryptocurrency miners NEED TO KNOW for taxes? Let's consult a US tax professional and CPA Miles Brook of Coinledger to create the best crypto mining tax guide! Get a free tax report with our CryptoTrader Tax link! CryptoTrader.Tax — The #1 Crypto Tax Software
Sub to VoskCoin for more crypto guides! http://voskco.in/Sub
Get up to $250 for FREE with BlockFi - http://voskco.in/250free
Join the MetaF1 discord & stay up to date - Meta F1 club
This is the best mining rig you can buy in 2022 - https://voskco.in/b300
Crypto taxes stress a lot of people out - myself included. That's why we asked a crypto tax expert to come on board and explain how to do your cryptocurrency taxes, especially crypto taxes related to mining! Mining crypto directly affects your taxes, so today we go over how to understand crypto mining and taxes. Are crypto mining rigs expenses that can be written off? How is your mined crypto taxed? Should you start a business for your crypto mining farm? All of this and more are discussed in depth in this interview!
Find out how to set electricity up correctly for mining - Bitcoin Crypto and GPU Mining Electricity Guide! - YouTube
Should you mine crypto in 2022? Find out here - Should You Mine Crypto in 2022? - YouTube
How profitable is mining crypto right now? Is Mining Still Profitable in 2022?! - YouTube
CryptoTrade.Tax is rebranding to CoinLedger - CryptoTrader.Tax — The #1 Crypto Tax Software

Timestamps


00:00 How do you properly report your crypto taxes?
01:48 Do you need to start a business for mining cryptocurrencies?
04:51 Is mining cryptocurrency taxed?
06:53 Does Constructive Receipt apply to crypto?
09:02 Crypto tax violations consequences
10:46 Race F1 cars in this NFT meta game!
11:19 Is Crypto Mining worth it?
15:14 Do you have to pay taxes on your crypto interest?
17:04 What happens when you want to cash out?
18:38 Short and long term capital gains rates with crypto
19:34 What happens when my crypto loses value?
Please note that this is NOT tax advice and cannot be construed as such. VoskCoin does not offer financial or tax advice. This interview is referencing 2021 tax regulations within the United States. Please consult a tax professional for all of your tax questions.
VoskCoinTalk the VoskCoin forum - VoskCoinTalk - Best cryptocurrency & blockchain forum
VoskCoin Facebook - Redirecting...
VoskCoin Reddit - https://www.reddit.com/r/voskcoin/
VoskCoin Discord Server Invite - VoskCoin
VoskCoin Twitter - https://twitter.com/VoskCoin
VoskCoin Instagram - Login • Instagram
VoskCoin is for entertainment purposes only and is never intended to be financial investment advice. VoskCoin owns or has owned cryptocurrency and associated hardware. VoskCoin may receive donations or sponsorships in association with certain content creation. VoskCoin may receive compensation when affiliate/referral links are used. VoskCoin is home of the Doge Dad, VoskCoin is not your Dad, and thus VoskCoin is never liable for any decisions you make.
Cryptocurrency Mining Tax Guide - Expert Explains