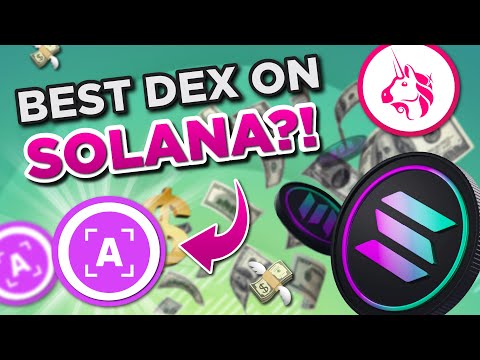 Decentralized Exchanges on Solana! Best SOL DEX? Solana one of the best blockchains, cheap fees, huge NFT support and exciting projects building and launching on Solana, what's their Uniswap AMM?? Subscribe to VoskCoin - http://voskco.in/Sub
Learn more about Alf Protocol! Alfprotocol - Leveraged Liquidity Provision dApp
Use the easiest cryptocurrency exchange and get $10 free - https://voskco.in/FTXapp
Code voskcoin gets 5% off your FTX trading fees! Buy and Sell Crypto on FTX: Bitcoin, Ethereum and more
Review the BEST Helium hotspot miners to buy - What is the BEST Helium Hotspot Miner to Buy? | by VoskCoin | VoskCoin | Medium
Bobcat Miner 300 is the BEST Helium mining rig - https://voskco.in/HNTb
Solana is a booming blockchain, and SOL has proven to be one of the best cryptocurrency investments of the decade and yet its ecosystem is only beginning. Much like when Ethereum initially skyrocketed it proved there was still a lot of room for that coin to run, now with use projects building on the Solana blockchain it will further the use-case for SOL as well as grow the community leading to big returns on the right projects building on the Solana blockchain. Decentralized Exchanges, DEXs are huge, AMM automated market makers like Uniswap, Pancakeswap, and Sushiswap are worth billions of dollars EACH, we are still searching for the dominant Uniswap clone for Solana and when that DEX is chosen by the majority of Solana DeFi users it will be worth a billion or more! Let's review if Alf Protocol could be the next Uniswap, but on Solana?!
Coinbase NFT marketplace sign-up - https://voskco.in/cbnft
Phantom Solana NFT wallet - Phantom - A friendly Solana wallet built for DeFi & NFTs
My NFTs public address and account on opensea - https://voskco.in/oNFTS

Timestamps


00:00 Uniswap on the Solana blockchain?
01:22 FTX and the future of Solana trading
03:12 The exciting potential of Alf Protocol
04:45 Alf tokenomics & funding
06:07 Alf DAO and their yield farming
08:20 Alf Protocol and the growing DeFi market
11:04 Arbitrary Curves in Alf Protocol
12:29 VoskCoin Alf Protocol Review
VoskCoinTalk the VoskCoin forum - VoskCoinTalk - Best cryptocurrency & blockchain forum
VoskCoin Facebook - Redirecting...
VoskCoin Reddit - https://www.reddit.com/r/voskcoin/
VoskCoin Discord Server Invite - VoskCoin
VoskCoin Twitter - https://twitter.com/VoskCoin
VoskCoin Instagram - Login • Instagram
VoskCoin is for entertainment purposes only and is never intended to be financial investment advice. VoskCoin owns or has owned cryptocurrency and associated hardware. VoskCoin may receive donations or sponsorships in association with certain content creation. VoskCoin may receive compensation when affiliate/referral links are used. VoskCoin is home of the Doge Dad, VoskCoin is not your Dad, and thus VoskCoin is never liable for any decisions you make.
Decentralized Exchanges on Solana! Best SOL DEX?