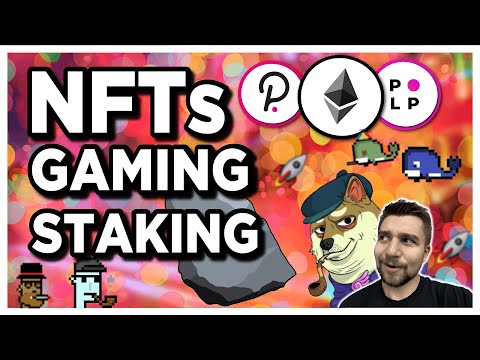 PolkaParty POLP lets you earn with NFTs, mint them, stake their token to earn returns yield farming, and implement gamification to DeFi and cryptocurrency investments for crypto investors! Subscribe to VoskCoin - http://voskco.in/Sub
Learn more about PolkaParty, POLP and MintyApes! PolkaParty
Compass sells ASIC miners - Compass — Bitcoin Mining and Hosting
Review the BEST Helium hotspot miners - What is the BEST Helium Hotspot Miner to Buy? | by VoskCoin | VoskCoin | Medium
Bobcat Miner 300 is the BEST mining rig to buy! https://voskco.in/HNTb
NFTs and DeFi are the best investments in the cryptocurrency sector, so it's exciting to see PolkaParty gamification of NFTs and crypto tokens as well as offering the ability to earn returns yield farming staking your POLP tokens and much more!
Join the Polka Party token Telegram group! Telegram: Contact @PolkaParty
Buy BNB on Binance US - Create a free account | Binance.US
Buy BNB on Binance - Create a free account | Binance
My new NFTs public address and account on opensea - https://voskco.in/oNFTS
0xF6c3c3621F42Ec1F1CD1207Bb1571d93646Ab29A
Watch our starter guide on Axie Infinity! Here's how to Play To Earn with Axie Infinity the BEST NFT game! - YouTube
Crypto investors becoming millionaires with NFTs - People are becoming MILLIONAIRES thanks to NFTs and YOU could too - YouTube

Timestamps


0:00 Decentralize finance and NFTs are making people millionare
01:35 How PolkaParty is gamificating NFTs
04:14 How can you get PolkaParty NFT?
06:31 What NFT are you going to get and why?
06:58 How can Polkaparty really works?
09:58 Polka Party team
10:42 How can you get POLP and stake them!
12:13 This could be a potencial crypto hidden gem!
13:11 Polka Party Tokenomics
15:17 Polka Party final thoughts
VoskCoinTalk the VoskCoin forum - VoskCoinTalk - Best cryptocurrency & blockchain forum
VoskCoin Facebook - VoskCoin
VoskCoin Reddit - https://www.reddit.com/r/voskcoin/
VoskCoin Discord Server Invite - VoskCoin
VoskCoin Twitter - https://twitter.com/VoskCoin
VoskCoin Instagram - Login • Instagram
VoskCoin is for entertainment purposes only and is never intended to be financial investment advice. VoskCoin owns or has owned cryptocurrency and associated hardware. VoskCoin may receive donations or sponsorships in association with certain content creation. VoskCoin may receive compensation when affiliate/referral links are used. VoskCoin is home of the Doge Dad, VoskCoin is not your Dad, and thus VoskCoin is never liable for any decisions you make.
DeFi and NFTs are the best investments! PolkaParty combines NFTs, Gaming, and Staking!