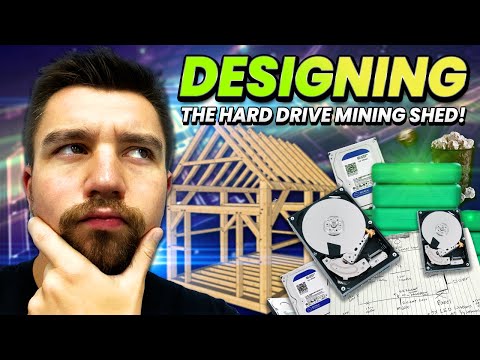 I am designing an amish shed for hard drive mining, and it's harder than i thought to build your own mini data center. I want to earn passive income with a dedicated HDD mining farm earning passive income farming Chia XCH but need your help designing it! Best HDD miners - hhttps://voskco.in/evg
PLEASE help me design this HDD mining shed to be better lol - Converting a shed into a Hard Drive Mining Data Center
Buy a Chia Mining Rig from Evergreen here - Evergreen
Learn more about Evergreen Chia Miners - The Best Cryptocurrency Miner for 2023 | by Miss Vosk (Alexa) | VoskCoin | Medium
FULL Evergreen Setup Tutorial - How To Set Up Evergreen Miner the BEST Chia XCH Farmer! - YouTube
Use code VOSKCOIN to save some coin
I want to build a long-term chia xch farming HDD hard drive mining farm and really would love your help in the design process, I'll be using several garage storage racks and eventually, deploy a couple server racks as well.
Join the VoskCoin Discord for more HDD mining content! VoskCoin
Subscribe for more mining content! VoskCoin - YouTube
Timestamps!
00:00 designing the Harddrive mining shed
00:39 From Amish shed to DIY Data center!
02:12 What is Chia coin?
03:41 What will be the Chia price?
04:48 Mining chia with plug and play miners
06:31 How much energy do Chia miners use?
07:35 How much will the full shed cost?
09:22 The shed design
13:02 Is weight going to be a issue?
14:33 Is this design even big enough?
16:35 What do you think I should do?
VoskCoin is for entertainment purposes only and is never intended to be financial investment advice. VoskCoin owns or has owned cryptocurrency and associated hardware. VoskCoin may receive donations or sponsorships in association with certain content creation. VoskCoin may receive compensation when affiliate/referral links are used. VoskCoin is home of the Doge Dad, VoskCoin is not your Dad, and thus VoskCoin is never liable for any decisions you make.
Designing Amish Shed for Hard Drive Mining!