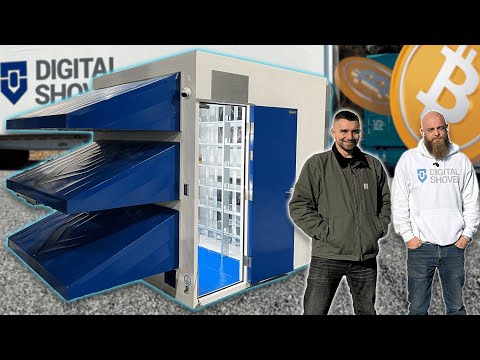 Scot Johnson has been designing, improving, and manufacturing plug and play custom Bitcoin mining shipping containers, but he didn't stop there, he's making PDUs, investing millions into his Digital Shovel M300 Minipod assembly line and more! Sub - http://voskco.in/Sub
Order the Digital Shovel M300 Minipod here! Digital Shovel x VoskCoin
Use code VOSKCOIN to get 5% off
This is the best altcoin miner to buy in 2023 - Evergreen
Bitcoin BTC miners for sale - Coin Mining Central - UK Cryptocurrency Mining Hardware Supplier
Scott Johnson of Digital Shovel has been working on his M300 Minipods for years, he's up to the m3 official version which is drastically improved from his original designs. Today Drew Vosk sits down with Scot Johnson to interview him about Digital Shovel and more specifically the design, making of, and inner-workings of the BTC mining ready to use shipping container that many massive bitcoin mining farms are ordering to rapidly expand their crypto mining operations!
Watch the Digital Shovel Minipod m300 delivery! My Bitcoin Mining Container is HERE! - YouTube
What Do YOU Need to MINE ONE BITCOIN In 2023?! What Do YOU Need to MINE ONE BITCOIN In 2023?! - YouTube
Follow VoskCoin on Social Media! VoskCoin | Twitter, Instagram, Facebook | Linktree
Thanks to Scott at Digital Shovel for designing this new Minipod 300 208v version, we have received the first design ever created to review which is just beyond exciting.

Timestamps


00:00 Creating a Bitcoin mining empire
01:11 Minipod features
03:02 The Minipod target customer base
04:47 Designing the Minipod
07:08 Biggest challenge in manufacturing the Minipod
09:58 Future plans for Digital Shovel
12:41 Minipod shipping and logistics
17:05 Different models of Minipods
20:22 Minipod power and miner capacity
22:36 Minipod saftey features
23:28 How many miners can I deploy?
24:01 Deployment of Minipod
24:50 Market for Minipods
VoskCoin is for entertainment purposes only and is never intended to be financial investment advice. VoskCoin owns or has owned cryptocurrency and associated hardware. VoskCoin may receive donations or sponsorships in association with certain content creation. VoskCoin may receive compensation when affiliate/referral links are used. VoskCoin is home of the Doge Dad, VoskCoin is not your Dad, and thus VoskCoin is never liable for any decisions you make.
Designing of a Bitcoin Mining Shipping Container - Digital Shovel M300 Minipod Scott Johnson Interview