DeVault is a #Sha256 based coin, which means it can be mined with any #Bitcoin miner!
This means that you can dust off that old miner you bought back in 2017 that you thought would never be profitable again and plug it back in, and within 10 minutes be on the road to mining a nice new stash of #DeVault which can either be hedl to get the 'monthly' #ColdRewards bonus (roughly 1.2% currently) or be sold on one of a few exchanges including Southxchange, Graviex, AltMarkets and SwiftEx.
We welcome you to come ask ANY and ALL questions as to why the project exists at all, what the goals are, or anything else you can think up while stuck home in quarantine before dusting off those miners of course! You can find most of the active community members in Discord: https://discord.gg/JnRZ7BB
A quick intro to DeVault: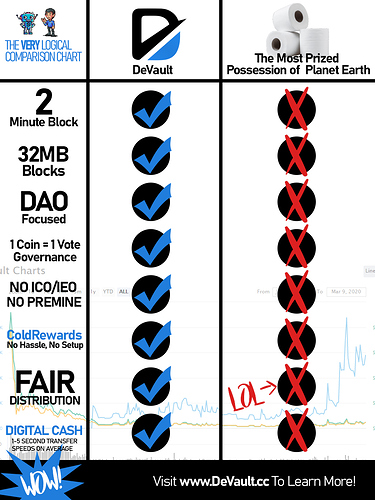 Not to mention there are other ways constantly popping up to earn DeVault for that rainy day fund as well:
-Programming
-Designing
-Writing
-Video
-Trading
-Market Making
-Meme Creation
-Social Media
Bounties such as:
and so much more! Not to mention anyone is welcome to submit proposals on devault.online requesting the community funds be leveraged for your idea or project you think could bring value to the community…
A few handy links:
Rent Hash Power: https://www.miningrigrentals.com/
Mining Pool Stats: https://miningpoolstats.stream/devault
DeVault Website: https://www.devault.cc/
Some Handy Pools:
Bsod.pw
ZergPool (GPUs)
Zpool
LuckyAltCoin
MineDVT.com
New Updates:
#DeVault Core 1.1.6 is now live (mandatory as well) with a new fee model to combat network spam.
Please ONLY download from:
https://devault.cc/wallets.html or
https://github.com/devaultcrypto/devault/releases/tag/v1.1.6