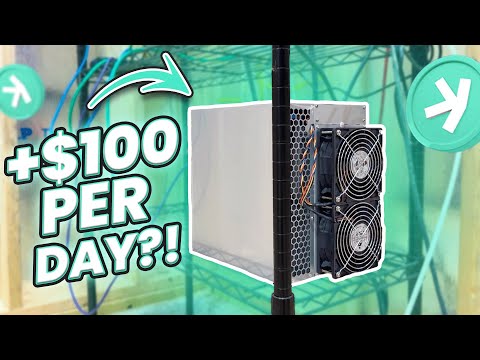 Earning passive income sounds cool and all that but uh does this computer thing really earn an insane $100 per day, and how?? This is the IceRiver KS1 it's a cryptocurrency miner mining Kaspa KAS an exciting new mineable coin! Grab your own here - https://voskco.in/cmbICE
Use Code VOSKCOIN with CryptoMinerBros to Save - https://voskco.in/cmb
Check Out the KAS Network Hashrate Here - Best Kaspa KAS Mining Pool - 2Miners
The IceRiver KS1 miners along with the KS0 KS2 KS3 and KS3L have been some of the most anticipated miners in a while, even during the bear market. Just a few days ago these miners were earning over $100/day. Let's review the KS1, our initial mining profitability, and projections for KASPA earnings over the next few weeks. We'll also bring you an updated review once we've run the miner for a bit to see how earnings have changed. The ultimate question should you buy a KASPA ASIC mining rig? You'll know the answer by the end of the video, at least until the Bitmain Antminer KS3 drops!
IceRivers official website - ICERIVER
How to Set Up an ASIC Miner - https://youtu.be/8XNQ4lP7PIc
Cryptocurrency Electricity Guide - https://youtu.be/eZi_yx_koXc
Failing to Scale My Mining Farm - https://youtu.be/Uy_k-ZwEllI

Timestamps


00:00 This miner earns $100 a day?!
01:19 Mining Kaspa KAS & it's future
02:50 Where to buy the IceRiver KS1?
04:11 IceRiver KS1 setup & dashboard
07:06 Kaspa Mining Difficulty & mining profits
10:44 Kaspa Miner range
12:50 Mining cryptocurrency vs stacking dollars?
14:17 Should you buy the IceRiver KS1?
Follow us on our official social media accounts! - VoskCoin | Twitter, Instagram, Facebook | Linktree
Subscribe to VoskCoin for more passive income tips! https://voskco.in/sub
Follow VoskCoin on TikTok for more shorts! VoskCoin (@voskcoin) | TikTok
VoskCoin is for entertainment purposes only and is never intended to be financial investment advice. VoskCoin owns or has owned cryptocurrency and associated hardware. VoskCoin may receive donations or sponsorships in association with certain content creation. VoskCoin may receive compensation when affiliate/referral links are used. VoskCoin is home of the Doge Dad, VoskCoin is not your Dad, and thus VoskCoin is never liable for any decisions you make.
Does This REALLY Earn Me +$100 PER DAY?! IceRiver KS1 Review Kaspa KAS ASIC Miner