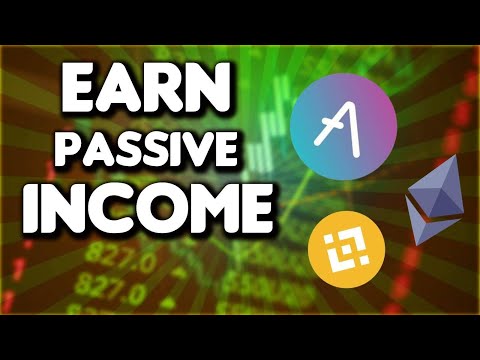 Here's how I'm testing out ways to earn passive income with cryptocurrency using DeFi or decentralized protocols to earn interest on my coins and to basically make money with crypto!
Learn more and earn more with VoskCoin Crypto YouTube! http://voskco.in/Sub
Earn interest on your cryptocurrencies w/ BlockFi - https://voskco.in/blockfi
Compass sells ASIC miners - https://voskco.in/compass
Review the BEST Helium hotspot miners - What is the BEST Helium Hotspot Miner to Buy? | by VoskCoin | VoskCoin | Medium
Bobcat Miner 300 is the BEST mining rig to buy! https://voskco.in/HNTb
I'm always looking for new and exciting ways to earn passive income with cryptocurrencies so today I am exploring Aave an open-source lending protocol that basically lets you lend out your cryptocurrencies like Bitcoin (WBTC) Ethereum ETH or WETH all of the stablecoins like USDT USDC DAI BUSD and many other cryptocurrencies. I am also testing Cream.Finance CREAM is basically an AAVE crypto competitor with fewer coin options. Either way it's super interesting to try to earn passive income interest with these DeFi DApps, let's check it out!
Get $10 for free w/ Gemini exchange - https://voskco.in/gemini
Learn what MetaMask is and how to use it! MetaMask Guide | BEST Ethereum Wallet for DApps and Smart Contracts - YouTube
Uniswap 2021 review and tutorial - https://youtu.be/QR7wT7W_c-w
My new NFTs public address and account on opensea - https://voskco.in/oNFTS

Timestamps


00:00 Earning Passive income with cryptocurrencies DEFI!
01:46 Aave Crypto Price and Prediction
03:33 Earning passive income with Aave
04:26 Gemini Dollar Gemini Earn
05:34 Earn 7.5 interest USDT/USDC/DAI
06:32 How to Conservatively Borrow Tokens
07:34 Dogemoon
09:53 ETH gas fees & DeFi profitability
12:32 Aave's Highest Earning Opportunity
13:53 Earn Interest passive income with cryptocurrency
14:38 Cream.Finance CREAM interest review
15:17 Aave cryptocurrency review
VoskCoinTalk the VoskCoin forum - http://voskco.in/forum
VoskCoin Facebook - Redirecting...
VoskCoin Reddit - https://www.reddit.com/r/voskcoin/
VoskCoin Discord Server Invite - http://voskco.in/discord
VoskCoin Twitter - https://twitter.com/VoskCoin
VoskCoin Instagram - https://www.instagram.com/voskcoin/
VoskCoin is for entertainment purposes only and is never intended to be financial investment advice. VoskCoin owns or has owned cryptocurrency and associated hardware. VoskCoin may receive donations or sponsorships in association with certain content creation. VoskCoin may receive compensation when affiliate/referral links are used. VoskCoin is home of the Doge Dad, VoskCoin is not your Dad, and thus VoskCoin is never liable for any decisions you make.
Earning Passive Income on my Cryptocurrencies with DeFi DApps!