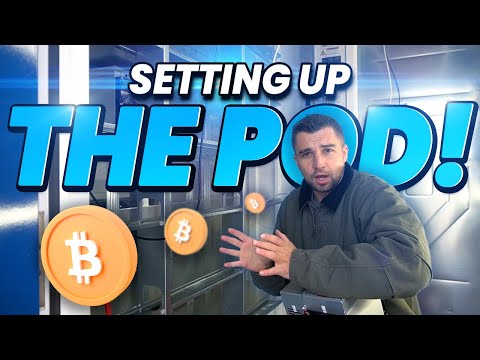 We've got the Digital Shovel MiniPod all hooked up and mining cryptocurrency now! Let's run through some of the features of the MiniPod as well as review the passive income my Bitcoin miners are earning mining on Starlink! Subscribe! https://voskco.in/Sub
I am expanding a lot of my mining farm with these miners - Evergreen
Coin Mining Central helps me source ASIC miners - Coin Mining Central - UK Cryptocurrency Mining Hardware Supplier
Digital Shovel makes the Mini Pod M300! Digital Shovel x VoskCoin
Use code VOSKCOIN to save money at Evergreen, CMC, and Digital Shovel!
Watch the full journey building out my mining farm here (playlist) - https://www.youtube.com/playlist?list=PL4dnwHTjcf-9qfOEekcjPwqJqgkO455f-
Thanks to Digital Shovel, we have the very first M300 MiniPod up and running at VoskCoin HQ! The MiniPod is a plug-and-play self-contained cryptocurrency mining container. It has the capacity to run up to 88 Bitmain S19's on three phase, and about 66 S19's on single phase electric. The MiniPod has several amazing features, including temperature sensors, automatic temperature-sensing fans, security cameras, convenient shelves made for miners, and software that allows you to control your miners remotely. We're mining bitcoin and several altcoins in our MiniPod. Come with us on a tour!

Timestamps


00:00 Energizing the pod!
01:56 The Digital shovel minipod is a plug-and-play mining pod!
03:00 Airflow and automatic vents on the minipod
03:53 Custom shelves and PDU's
05:00 Controlling the Digital Shovel Minipod remotely + data overview
06:45 How to finish the mining shed?
07:30 Solar power bitcoin mining?
08:10 Using the miners to heat buildings
08:57 How many miners can you put in the Minipod?
10:13 Crypto mining is passive income
10:48 Getting internet to your miners
11:40 Immersion and liquid cooling
12:11 Tails approves!
Follow us on our official social media accounts! - VoskCoin | Twitter, Instagram, Facebook | Linktree
Subscribe to VoskCoin for more passive income tips! https://voskco.in/sub
Follow VoskCoin on TikTok for more shorts! https://voskco.in/tiktok
VoskCoin is for entertainment purposes only and is never intended to be financial investment advice. VoskCoin owns or has owned cryptocurrency and associated hardware. VoskCoin may receive donations or sponsorships in association with certain content creation. VoskCoin may receive compensation when affiliate/referral links are used. VoskCoin is home of the Doge Dad, VoskCoin is not your Dad, and thus VoskCoin is never liable for any decisions you make.
Energizing the Bitcoin Mining Pod!