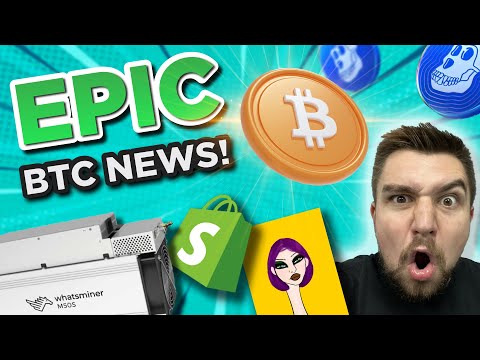 There's a new Bitcoin miner on the way, a 13-year old just became a multimillionaire with NFTs, and billions of dollars is being invested into cryptocurrency?! Today we have some crazy crypto news! Subscribe to VoskCoin for the best crypto content! http://voskco.in/Sub
This is the best mining rig you can buy in 2022 - https://voskco.in/b300
Get 5% off fees and $10 for FREE! - https://voskco.in/ftx
Check out music NFTs with OceanFloor Music - Welcome to the music evolution
Based Finance - Based Finance
Tigerclan NFTs - https://voskco.in/d046c3
Bitcoin just had a huge boost for public adoption, and MicroBT are releasing new Bitcoin (BTC) miners that are more efficient than ever! Is it time to be bullish on Bitcoin again?! NFTs are still making people millions of dollars, and coins tied to NFT collections are becoming top 50 cryptocurrencies! Crypto is growing faster than ever, with funding flooding the market, mining growing faster than ever, and people earning insane passive income on all types of crypto projects and coins!
Use code VOSKCOIN5 to get 5% off when you order a Panther X2 miner - Panther X2 Hotspot – Panther Global
Should you mine crypto in 2022? - Should You Mine Crypto in 2022? - YouTube

Timestamps


00:00 NFT making millionaires and new miners launched
01:31 New Bitcoin miners launched!
03:06 Bitcoin vs Ethereum
04:12 Buy with crypto without KYC
05:35 EU blocks crypto services to Russia
06:25 Binance US raises $200 Million in funding
07:37 Elon Musk purchases Twitter shares
08:20 Crypto bridge Wormhole $2.5 billion private sale
08:33 China's mining ban & US Impact
13:10 13 year old NFT Millionaire!
15:18 Best place to buy NFTs
18:19 NFT collections dropping their own tokens
20:26 Update on Bitcoin Mining stocks
21:59 Helium mining update and new Helium miners
VoskCoinTalk the VoskCoin forum - VoskCoinTalk - Best cryptocurrency & blockchain forum
VoskCoin Facebook - Redirecting...
VoskCoin Reddit - https://www.reddit.com/r/voskcoin/
VoskCoin Discord Server Invite - VoskCoin
VoskCoin Twitter - https://twitter.com/VoskCoin
VoskCoin Instagram - Login • Instagram
VoskCoin is for entertainment purposes only and is never intended to be financial investment advice. VoskCoin owns or has owned cryptocurrency and associated hardware. VoskCoin may receive donations or sponsorships in association with certain content creation. VoskCoin may receive compensation when affiliate/referral links are used. VoskCoin is home of the Doge Dad, VoskCoin is not your Dad, and thus VoskCoin is never liable for any decisions you make.
EPIC Bitcoin NEWS!? NFT Millionaires?! - April Crypto News