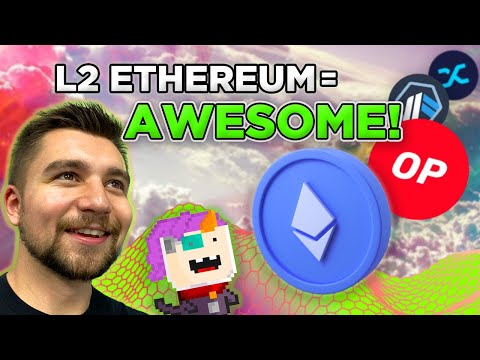 Ethereum is switching to Proof of Stake ETH 2.0, but this does not solve reduce transaction/gas fees! Layer 2 blockchains solve the insanely high gas fees - but which should you use? Let's take a look at the most popular Layer 2 blockchains right now! Don't forget to sub! https://voskco.in/Sub
Get tons of great sign up bonuses with FTX! - FTX.US & FTX Sign-Up Bonuses — $15 free, 5% off fees & FREE Crypto! - VoskCoin - Medium
Trade, Earn, and Refer on DEX BiSwap - Biswap
With Ethereum approaching the Merge, it seems that Layer 2 cryptocurrencies have been booming! It is extremely disappointing to know that despite all the hype around ETH 2.0 and the Merge, it will NOT solve the high gas fees on Ethereum, which can sometimes cost over $10, with previous highs 10X that! Layer 2 blockchains help alleviate those gas fees, but they're not as easy to use as Ethereum. Today we'll go through the most important Layer 2 cryptocurrencies that you need to know about, and why you should be using all of them to become eligible for insanely profitable crypto airdrops - literally get free crypto just for using the platforms! You can provide liquidity, stake your coins and earn passive income, or make decentralized trades across multiple dApps on these Layer 2 blockchains!
Optimism OP layer 2 - Optimism
Arbitrum ARBI layer 2 - https://voskco.in/arbi
BNB Smart Chain bep20 best DEX - Biswap
Synthetix SNX website dapp - Synthetix
Uniswap decentralized exchange - Uniswap Interface
1inch DEX aggregator - 1inch - DeFi / DEX aggregator on Ethereum, Binance Smart Chain, Optimism, Polygon, Arbitrum

Timestamps


00:00 Making passive and active income
00:42 The Layer 2 Universe is growing
01:40 How to use the Optimism Blockchain
03:00 Get your free Optimism NFT!
04:44 Optimism has very low gas fees
05:16 How to use synthetix SNX to earn passive income
07:09 What are Synths?
08:00 Total value locked is falling fast!
09:00 How cheap are the Layer 2s?
09:36 Arbitrum is a awesome layer 2 chain to use
11:01 Using layer 2 on Uniswap for cheap trading!
12:36 Minting a NFT on Arbitrum!
13:09 Layer 2 is crazy fast!
14:00 Ethereum is still doing allot of transactions
14:43 Biswap is on the BNB smart chain
16:00 Using Arbitrum and layer 2s on AAVE
17:22 1Inch supports allot of Blockchains
18:14 Ethereum gas fees are still very high
18:55 Having fun on the blockchain
Follow us on our official social media accounts! - VoskCoin | Twitter, Instagram, YouTube, Facebook | Linktree
Subscribe to VoskCoin for more passive income tips! https://voskco.in/sub
Follow VoskCoin on TikTok for more shorts! TikTok
VoskCoin is for entertainment purposes only and is never intended to be financial investment advice. VoskCoin owns or has owned cryptocurrency and associated hardware. VoskCoin may receive donations or sponsorships in association with certain content creation. VoskCoin may receive compensation when affiliate/referral links are used. VoskCoin is home of the Doge Dad, VoskCoin is not your Dad, and thus VoskCoin is never liable for any decisions you make.
Ethereum Layer 2s are Awesome! Best ETH L2s to Use!