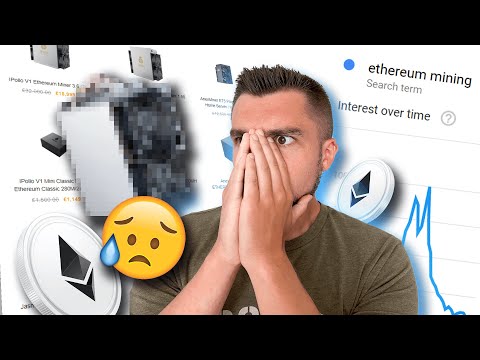 With Ethereum 2.0 on the horizon, the future of Ethash ASIC and GPU mining is looking less profitable. However, multiple NEW Ethereum miners are being released right NOW! Are ASIC ETH miners dumping stock on noobs or is Ethereum the best coin to mine still?! Sub to find out! http://voskco.in/Sub
Get tons of bonuses trading on FTX! FTX.US & FTX Sign-Up Bonuses — $15 free, 5% off fees & FREE Crypto! - VoskCoin - Medium
Apparently Ethereum 2.0 is DELAYED… AGAIN?! Ethereum's Merge Projected for September According to 'Soft' Timeline
The current mining landscape is a difficult one to traverse. Crypto prices could go lower, miner prices could fall, and all amidst a global economic crisis. But mining companies are choosing to release new miners that mine Ethereum - despite the Eth 2.0 merge set to take place literally next month?! Do they perhaps know something we don't? Or are they taking the final opportunity they have to sell off mining rigs that will be glorified paper-weights in a few months? ASIC companies have always had shady business practices - but is this the worst we've ever seen from them? Let's take a look at some of these miners, and find out whether you should buy them, or avoid them at all costs.
How to Set up ANY Crypto Miner - How To Set Up an ASIC Miner - YouTube
How to prepare your home electricity for mining - Bitcoin Crypto and GPU Mining Electricity Guide! - YouTube

Timestamps


00:00 Are new Ethereum miners a scam?!
01:24 Brief history of Ethereum mining
02:53 ETH mining vs BTC mining profitability
05:19 Has this mining "scam" happened before?
06:07 Other coins to mine after Ethereum?
08:08 Will Ethereum 2.0 happen this year?
10:03 Should you buy a new ETH Miner?
11:15 The future of decentralized mining
Follow us on our official social media accounts - VoskCoin | Linktree
VoskCoin is for entertainment purposes only and is never intended to be financial investment advice. VoskCoin owns or has owned cryptocurrency and associated hardware. VoskCoin may receive donations or sponsorships in association with certain content creation. VoskCoin may receive compensation when affiliate/referral links are used. VoskCoin is home of the Doge Dad, VoskCoin is not your Dad, and thus VoskCoin is never liable for any decisions you make.
Ethereum Miners - Do NOT Do This!