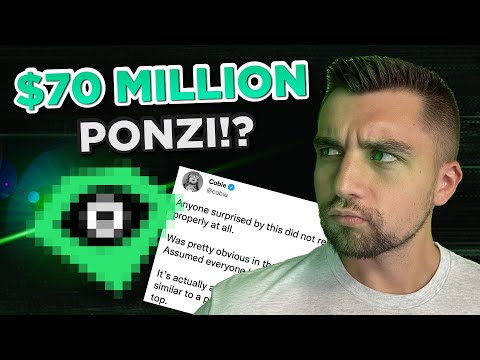 Many people have made over 6 figures with cryptocurrency airdrops. One of those lucrative drops was for LooksRare and their Looks token - but was it too good to be true? Are they up to something shady behind the scenes? Sub to VoskCoin! http://voskco.in/Sub
Try Cryptal's new exchange - Cryptal - Secure and Simple Crypto Exchange
This is the best mining rig you can buy in 2022 - https://voskco.in/b300
Crypto Cobie's Substack - Cobie | Substack
LooksRare stands as the only major competitor against Opensea currently, and when they airdropped hundreds of thousands of Dollars worth of coins to users, they only propelled themselves further into popularity. But was this airdrop simply a money-making tactic by the developers and team at LooksRare? One of Crypto Twitters' finest detectives, Cobie, dug into their tokenomics and what he found is pretty alarming. Could LooksRare be the next multi-million dollar crypto ponzi? Was LooksRare doomed from the start? We dig deep into the mechanics and withdrawals behind LooksRare and their ETH fee collection system - which has made the team over $70 million in the past few months.
The BEST Crypto Airdrop list leaked? - HUGE CRYPTO AIRDROP LIST LEAKED! - YouTube
1inch crypto dex aggregator - 1inch - DeFi / DEX aggregator on Ethereum, Binance Smart Chain, Optimism, Polygon, Arbitrum
Best Crypto Airdrops in 2022 - BEST FREE Cryptocurrency Airdrops in 2022 - YouTube

Timestamps


00:00 Should you dump crypto airdrops?!
00:37 Best time to sell your airdrop tokens
03:16 Various funding routes in crypto
05:01 LooksRare cashing out $70 million?
06:40 Exposing the LooksRare airdrop
13:15 How to get Looks?
13:48 Token Holders and transfers
14:26 Is the LooksRare airdrop a ponzi?
VoskCoinTalk the VoskCoin forum - VoskCoinTalk - Best cryptocurrency & blockchain forum
VoskCoin Facebook - Redirecting...
VoskCoin Reddit - https://www.reddit.com/r/voskcoin/
VoskCoin Discord Server Invite - VoskCoin
VoskCoin Twitter - https://twitter.com/VoskCoin
VoskCoin Instagram - Login • Instagram
VoskCoin is for entertainment purposes only and is never intended to be financial investment advice. VoskCoin owns or has owned cryptocurrency and associated hardware. VoskCoin may receive donations or sponsorships in association with certain content creation. VoskCoin may receive compensation when affiliate/referral links are used. VoskCoin is home of the Doge Dad, VoskCoin is not your Dad, and thus VoskCoin is never liable for any decisions you make.
Exposing a $70 MILLION Crypto Ponzi?! looksrare looks 2022 review