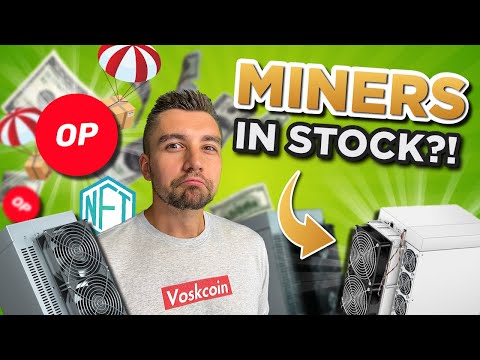 Free Crypto, New Mining Rigs for sale, Dogecoin FUD, and NFTs?! A new cryptocurrency is helping crypto users turn time into money, more crypto mining rigs enabling easy passive income, DOGE FUD, and NFT news! Subscribe to the best crypto channel! http://voskco.in/Sub
If you aren't trading on FTX you're missing out! https://voskco.in/FTX
Get $250 for free using BlockFi! https://voskco.in/blockfi
KD-Lite from CMC is the best Goldshel miner to buy right now - Coin Mining Central - UK Cryptocurrency Mining Hardware Supplier
Optimism OP crypto token claim - Optimism Gateway
Everyone wants to make money with cryptocurrency but its easier said than done, so how do you make money? Buying a coin and holding it, hoping it goes up, sure, but there are other ways to earn money like passive income earning through cryptocurrency mining. Many new crypto miners just came back in stock but to be honest not all of them may be worth buying… NFTs continue to be minted, but whats the next big NFT collection? Gamefi, metaverse, and new tokens, big buzz words but also interesting investment opportunities, lets review the latest crypto news including an exciting cryptocurrency airdrop you can still become eligible for!
Optimism OP airdrop claim guide - How to Claim FREE $1000 Crypto Airdrops | OP Optimism - YouTube
Should you mine crypto in 2022? - Should You Mine Crypto in 2022? - YouTube
Check out our crypto passive income video guide! - Earning $2000 A MONTH?! Staking Cryptocurrency | Passive Income W/ NRG and Crypto Earn - YouTube

Timestamps


00:00 Popular NFT stolen?
01:53 Popular NFTs stolen by scammer
03:49 Energi secures $50 Million in investment
05:54 Energi launching NFTs on their chain
07:19 UST/LUNA lawsuits
08:26 Do Kwan in serious trouble?
09:36 Some troubling information leaked
10:36 Coinbase becomes first Fortune 500 crypto company
12:57 Russia updates crypto mining bill
15:28 Crazy Bitcoin predictions
19:54 Crypto status report
All the VoskCoin links you need in one spot! VoskCoin | Linktree
VoskCoin is for entertainment purposes only and is never intended to be financial investment advice. VoskCoin owns or has owned cryptocurrency and associated hardware. VoskCoin may receive donations or sponsorships in association with certain content creation. VoskCoin may receive compensation when affiliate/referral links are used. VoskCoin is home of the Doge Dad, VoskCoin is not your Dad, and thus VoskCoin is never liable for any decisions you make.
Free Crypto, New Mining Rigs for sale, Dogecoin FUD, and NFTs?!