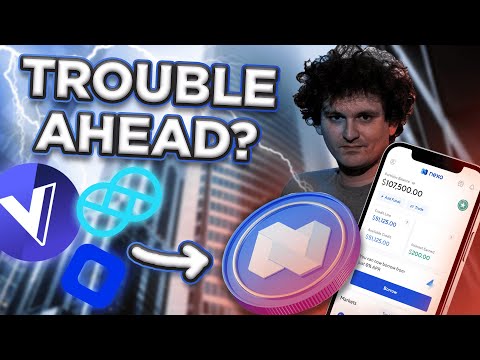 Nexo is one of the last cryptocurrency lenders still operational, FTX led by Sam Bankman-Fried filed for bankruptcy, Genesis Trading who operated Gemini Earn have paused withdrawals, and BlockFi have frozen all of their accounts… Is Nexo actually safe? Subscribe! https://voskco.in/sub
Direct link to Nexo - The Right Place For Your Crypto • Nexo
Is Nexo NEXT though? Ironically Nexo had offered to acquire BlockFi in 2022, and now BlockFi is in dire need of additional funding, so one conspiracy is that Nexo could be bailing BlockFi out just like FTX did led by SBF. However, FTX imploded as a massive ponzi scheme scam, and trust in most cryptocurrency companies is at an all time low. Nexo, if their proof of reserves hold true, and their business is truly solvent and profitable, stand to take control of the crypto lending and borrowing sector – at least on the CeFi side, there is of ourse always DeFi protocols like Aave. Let's review Nexo, and if 2022 will set them up for success in 2023, or Nexo will be the next crypto lender to file for bankruptcy…
Voyager VGX facing bankruptcy? - Another Crypto Lender BANKRUPTCY - What Happened to Voyager VGX - YouTube
Gemini Earn faces a similar fate to Voyager? - MORE HALTED CRYPTO WITHDRAWALS?! WTF Gemini Earn and Genesis Trading - YouTube
What is the future for BlockFi? - BlockFi Paused Withdrawals...Here's What Happened and What's Next - YouTube

Read the investigation threads here:


Nexo confirms that they have no exposure to FTX or any of the contaminated companies - https://twitter.com/Nexo/status/1592872077983645697
https://twitter.com/Nexo/status/1590068797284941829
https://twitter.com/Nexo/status/1590068799415279616
Nexo offered $850m to buy BlockFi before FTX - The Block: Nexo had offered BlockFi an $850 million deal to potentially acquire it
Nexo co-founder interview - https://twitter.com/BloombergTV/status/1590802425933230080
Should you trust Nexo's proof of reserves page? - https://twitter.com/Bitcoin/status/1591479648558678016
Nexo withdrew $219 Million from FTX before collapse! - https://twitter.com/AaronDBennett/status/1590641964646817795
Nexo set to launch their non-custodial wallet - Nexo set to launch their own non-custodial smart wallet

Timestamps


00:00 Bad news keeps getting worse…
01:07 Nexo offered BlockFi $850m to acquire them!
03:13 Nexo co-founder speaks on FTX
04:32 Were Nexo exposed to Genesis, FTX or BlockFi?
06:23 What is Nexo? Trust their Proof of Reserves?
07:46 Nexo withdraws from FTX before collapse
09:16 Nexo launching a non-custodial smart wallet
10:44 Nexo - the king, or another collapse imminent?
13:01 Billion Dollar deals taking place!
Follow us on our official social media accounts - VoskCoin | Twitter, Instagram, Facebook | Linktree
VoskCoin is for entertainment purposes only and is never intended to be financial investment advice. VoskCoin owns or has owned cryptocurrency and associated hardware. VoskCoin may receive donations or sponsorships in association with certain content creation. VoskCoin may receive compensation when affiliate/referral links are used. VoskCoin is home of the Doge Dad, VoskCoin is not your Dad, and thus VoskCoin is never liable for any decisions you make.
FTX Contagion Spreads, Nexo Crypto Lender Next?