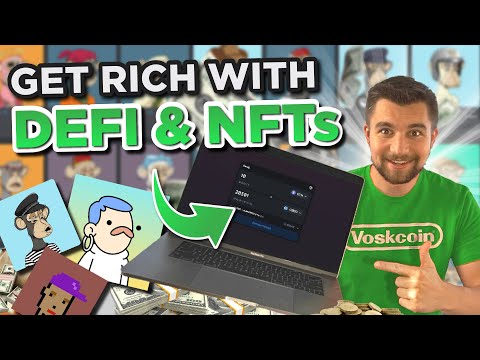 Get Rich Using Mining, DeFi, and NFTs! Cryptocurrency is the best way to not only earn passive income by mining and yield farming but also active income by trading crypto and flipping NFTs! Buy the BEST mining rig here - https://voskco.in/HNTb
Reviewing the best Helium HNT miner to buy - Is this the BEST Helium Miner EVER? - YouTube
Get $10 for free, 5% off fees on FTX! FTX.US & FTX 5% off fess & $10 FREE Codes! - VoskCoin - Medium
get $250 for free with BlockFi - BlockFi | Get Up to $250 in Bonus BTC v2 10.26
Learn more about Stoic AI - AI Invest in crypto trading bot web app for Binance | Auto trading long-only strategy | STOIC
Compass sells Bitcoin miners - Compass — Bitcoin Mining and Hosting
Bitcoin makes new millionaires, Ethereum makes new millionaires, and then certain crypto sectors make new millionaires for example cryptocurrency miners have mined a ton of BTC and ETH earning huge passive income over the years. DeFi decentralized Finance has opened up so many money making opportunities from airdrop hunting, yield farming, and just buying the right DeFi coins and then NFTs non-fungible tokens the latest craze, minting and flipping NFTs is a full-time job and insanely profitable for many crypto investors! Here's why you can get rich using mining, DeFi, and NFTs!
Apply NOW to work at VoskCoin! Google Forms: Sign-in

Timestamps


00:00 Over the next year cryptocurrency will make you money!
00:42 Get $10 free and 5% off fees
01:20 Defi, Decentralized finance
02:30 Defi is replacing Cefi (Centralized Finance)
03:42 Some Defi examples
04:37 Mark Cuban is lending his money on Polygon!
04:50 Blockfi a mix between Cefi and Defi
06:30 NFTs get a lot of love and hate!
07:20 Unicly generated profile pictures with nfts
07:34 Uses of the NFTs
08:36 NFTs on the gaming industry!
09:45 Ownership with NFTs on the gaming sector
11:23 Mining earn passive income 24/7
14:12 Stoic
14:58 Don't capitulate we are going to make it!
VoskCoinTalk the VoskCoin forum - VoskCoinTalk - Best cryptocurrency & blockchain forum
VoskCoin Facebook - Redirecting...
VoskCoin Reddit - https://www.reddit.com/r/voskcoin/
VoskCoin Discord Server Invite - VoskCoin
VoskCoin Twitter - https://twitter.com/VoskCoin
VoskCoin Instagram - Login • Instagram
VoskCoin is for entertainment purposes only and is never intended to be financial investment advice. VoskCoin owns or has owned cryptocurrency and associated hardware. VoskCoin may receive donations or sponsorships in association with certain content creation. VoskCoin may receive compensation when affiliate/referral links are used. VoskCoin is home of the Doge Dad, VoskCoin is not your Dad, and thus VoskCoin is never liable for any decisions you make.
Get Rich Using Mining, DeFi, and NFTs!