Experts believe that the Bitcoin digital currency could rise to $100,000 PER COIN?! However, the true financial freedom opportunities really revolve around altcoins, cryptocurrencies other than Bitcoin! Sub to VoskCoin - http://voskco.in/Sub
AAX cryptocurrency exchanged powered by LSEG - http://voskco.in/aax1
Get $25 for free with CryptoDotCom app - https://medium.com/voskcoin/crypto-com-review-50-for-free-58b7287170f4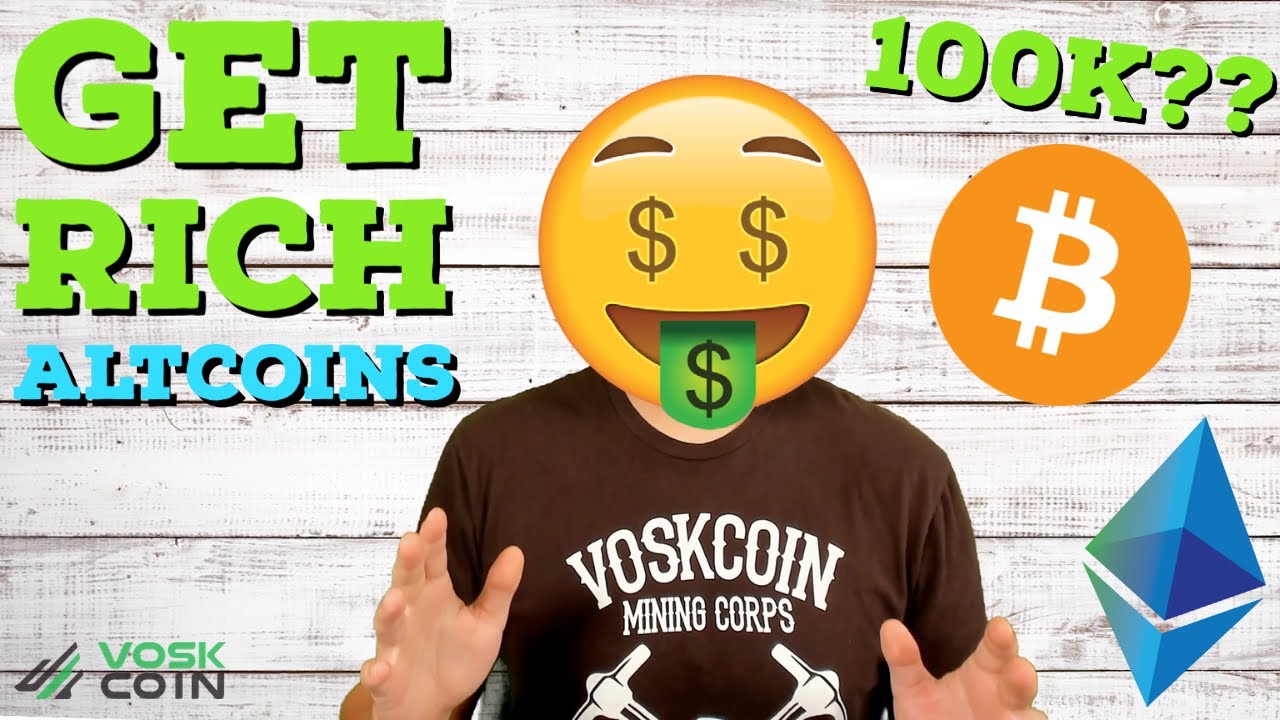 Everyone wants to make money, people want to get rich, and financial freedom has always been a dream of mine. With the cryptocurrency market heating up, you'll hear more and more about the best crypto coins to buy, or buy this coin and it will make you a billionaire or how if you could buy 50 Bitcoins you could become a billionaire and so forth but the fact of the matter is no one knows whats going to happen next. However, you can review your experiences buying and trading Bitcoin, Ethereum, and other crypto coins, and then try to buy the best coins for the best prices at the best times. Bitcoin's Baby Brother Theory BBBT is basically a rising tide brings up all of the ships, and as Bitcoin increases in price it provides interest and opportunities for other cryptocurrencies sometimes called altcoins to get a ton of interest and then the potential for "huge gains". Anyway, let's review how Bitcoin can seriously reach $100k per BTC coin and how you can seriously get rich in a crypto bull market with the right digital currencies!
Links!
The complete case for $100k Bitcoin BTC - http://voskco.in/212P
Coingecko a better coinmarketcap for coin rankings - http://voskco.in/gecko
Timestamps!
00:00 Introduction to trying to achieve financial freedom with cryptocurrency
01:41 Bitcoin's Baby Brother Theory BBBT achieving double digit gains
03:14 The best Bitcoin and cryptocurrency YouTube channel to watch
03:52 How to find the best cryptocurrencies and crypto coins
04:33 How Bitcoin BTC can seriously get to $100,000 per coin!
07:35 Make money with Bitcoin or get RICH with crypto altcoins
11:52 AAX cryptocurrency exchange for trading digital currency
13:47 Investing in the top cryptocurrencies like Chainlink, Cardano, Ethereum, Polkadot DOT, Tron coin, Ripple XRP and Stellar lumens oh and NOT Neo coin
15:00 Sharing what I've learned with how to make profitable crypto trades
VoskCoin Facebook - https://www.facebook.com/VoskCoin/
VoskCoin Reddit - https://www.reddit.com/r/voskcoin/
VoskCoin Discord Server Invite - http://voskco.in/discord
VoskCoin Twitter - https://twitter.com/VoskCoin
VoskCoin Instagram - https://www.instagram.com/voskcoin/
VoskCoin is for entertainment purposes only and is never intended to be financial investment advice. VoskCoin owns or has owned cryptocurrency and associated hardware. VoskCoin may receive donations or sponsorships in association with certain content creation. VoskCoin may receive compensation when affiliate/referral links are used. VoskCoin is home of the Doge Dad, VoskCoin is not your Dad, and thus VoskCoin is never liable for any decisions you make.