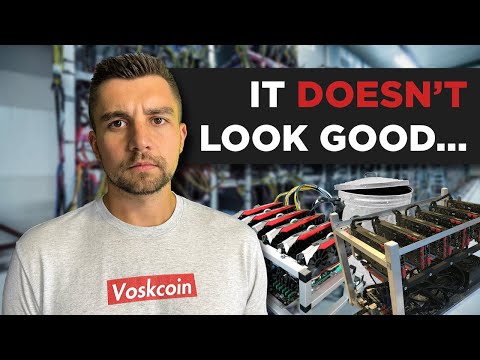 Drew Vosk of VoskCoin, Kristy "OhGodAGirl" Minehan and Reuben Yap of Firo discuss what will happen to GPU mining after Ethereum merges the Proof of Work algorithm and basically abandons it for Proof of Stake PoS on ETH 2.0. Is GPU mining doomed? Subscribe today! http://voskco.in/Sub
Watch the full 2-hour Future of GPU mining video here! The Future of GPU Mining - YouTube
Get up to $250 for free with Blockfi! https://voskco.in/blockfi
Decentralized crypto trading and farming on ApeSwap - ApeSwap
In-Stock Helium miners ready to ship - Panther X2 Hotspot – Panther Global
GPU mining used to be an incredible way to get a ton of coins, support different cryptocurrencies and truly earn huge passive income but those days have come and gone. Mining with graphics cards is incredible, but tons of huge GPU mining farms have popped up, and there are also less coins than ever that you can GPU mine, oh and the biggest GPU mineable coin, Ethereum, is actively moving away from proof of working mining for staking using proof of stake with Ethereum 2.0 which will be the only way ETH runs after the ETH 2.0 merge?!

Timestamps


00:00 Future of mining is bleak
01:07 Ethereum and mining
02:01 Difficulty of creating a new minable project
02:58 What is a 51% attack?
05:09 Challenges faced by small minable projects
09:20 What will happen to the current Ethereum hardware?
12:43 Will ETC be huge after ETH 2.0?
13:45 Alternative use cases for GPUs in Ethereum network
17:37 What follows ETH 2.0?
24:27 Ethereum vs other current minable coins
28:47 How can we reduce the damage?
Kristy's LinkedIn - https://www.linkedin.com/in/ohgodagirl
Kristy's Twitter - https://twitter.com/OhGodAGirl
Reuben's LinkedIn - https://my.linkedin.com/in/reuben-yap
Reuben's Twitter - https://twitter.com/Reubenyap
VoskCoinTalk the VoskCoin forum - VoskCoinTalk - Best cryptocurrency & blockchain forum
VoskCoin Facebook - Redirecting...
VoskCoin Reddit - https://www.reddit.com/r/voskcoin/
VoskCoin Discord Server Invite - VoskCoin
VoskCoin Twitter - https://twitter.com/VoskCoin
VoskCoin Instagram - Login • Instagram
VoskCoin is for entertainment purposes only and is never intended to be financial investment advice. VoskCoin owns or has owned cryptocurrency and associated hardware. VoskCoin may receive donations or sponsorships in association with certain content creation. VoskCoin may receive compensation when affiliate/referral links are used. VoskCoin is home of the Doge Dad, VoskCoin is not your Dad, and thus VoskCoin is never liable for any decisions you make.
GPU Mining After ETH 2.0 Merge