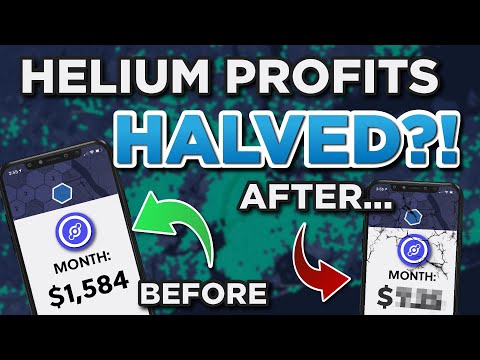 Helium hotspot mining is the most profitable way to mine cryptocurrencies and earn passive income in 2021 but Helium HNT just HALVED and did that impact my HNT mining rigs earnings?! The Bobcat Miner 300 is the ONLY Helium miner you should buy - https://voskco.in/HNTb
Review the BEST Helium miners to buy! What is the BEST Helium Hotspot Miner to Buy? | by VoskCoin | VoskCoin | Medium
Bobcatminer is shipping the Bobcat 300 faster than other HNT miners!
Compass sells ASIC miners - https://voskco.in/h0n
Buy the GSX stable growth coin here - https://voskco.in/gsxcde
DeHorizon aims to make play to earn FUN! https://voskco.in/h0n
Earn passive income mining cryptocurrency with Helium hotspot miners! Here's the latest Helium mining profitability update along with shipping updates from major hotspot manufacturers like Bobcat miner 300, Calchip Rak v2, Nebra hotspots, SP NA hotspots, Syncrobit hotspots, linxdot helium hotspot miners, and sensecap hotspot miners. Let's review helium mining profitabilty post helium hnt halving and if its worth it along with the BEST HNT mining rig to buy RIGHT NOW!
Links!
Subscribe to VoskCoin - http://voskco.in/Sub
Linxdot Helium hotspot miners for sale - https://voskco.in/hntL
Use coupon code voskcoin to save on linxdot miners
Helium mining 30 day profitability - https://youtu.be/cofKps88NAA
Watch the Bobcat Helium miner review! https://youtu.be/ddfQA4Ubg6A
Syncrobit helium miners - save w/ code voskcoin - https://voskco.in/hntsyn
RAK V2 sold by CalChip HNT miner is sold out - https://voskco.in/HNTr
Nebra Helium hotspot miners are sold out - https://voskco.in/HNTn
SP NA is relabeling Syncrobit miners - https://voskco.in/HNTs
Review how I earned $5,200 IN ONE DAY mining Helium - https://youtu.be/pDNAouHV9G0
VoskCoin reviews his first Helium hotspot miner - My first Helium HNT Hotspot miner! 🎈 - YouTube
Earning 50+ a day mining Helium HNT! I'm EARNING $50+ A DAY in passive income with a SILENT COMPUTER?? - YouTube
Official Helium HNT site - https://voskco.in/hnt

Timestamps


00:00 New Helium miners & the Helium Halving!
02:02 Nebra Helium hotspot update
02:41 Bobcat miner 300 hotspot update
04:08 SPNA & SyncroBit helium miner updates
05:15 New miner manufacturers - Linxdot & Sensecap
06:58 Calchip RAK miner update
08:07 GSX is the first stable growth coin!
08:57 Should I still buy a Helium miner?
11:42 Is it still profitable to mine HNT?
12:06 DeHorizon is building a play-to-earn crypto MMO!
12:50 How profitable is Helium mining after the Halving?
14:20 Helium mining profitability update
VoskCoinTalk the VoskCoin forum - http://voskco.in/forum
VoskCoin Facebook - Redirecting...
VoskCoin Reddit - https://www.reddit.com/r/voskcoin/
VoskCoin Discord Server Invite - http://voskco.in/discord
VoskCoin Twitter - https://twitter.com/VoskCoin
VoskCoin Instagram - https://www.instagram.com/voskcoin/
VoskCoin is for entertainment purposes only and is never intended to be financial investment advice. VoskCoin owns or has owned cryptocurrency and associated hardware. VoskCoin may receive donations or sponsorships in association with certain content creation. VoskCoin may receive compensation when affiliate/referral links are used. VoskCoin is home of the Doge Dad, VoskCoin is not your Dad, and thus VoskCoin is never liable for any decisions you make.
Helium Miner Profitability HALVED is HNT Mining still worth it?!