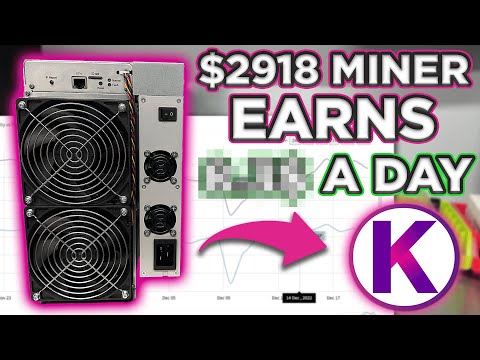 If you want to earn passive income with cryptocurrency the best way is with a mining rig, so let's review how much this $2,918 ASIC mining rig earns, reviewing the Goldshell KD-MAX Kadena KDA miner! Sub! http://voskco.in/Sub
Buy Kadena ASIC miners with CoinMiningCentral - Coin Mining Central - UK Cryptocurrency Mining Hardware Supplier
Set up to mine with DXPool - https://voskco.in/dxpool
Kadena is a smart contract mineable blockchain platform, KDA is one of the most profitable coins to mine but what about what miner to mine it with? Kadena is investing $100m into their ecosystem and the KDA market cap is less than $200m right now. Goldshell was the best Kadena KDA miner manufacturer, but now Bitmain takes the crown with best Kadena KDA miner now the Bitmain Antminer KA3 but that's not out yet… or at least I have not been able to get that mining rig yet… so let's review the goldshell kd-max and why the kd max is one of if not the worst Goldshell ASIC miner they have ever made and it costs $2,918?!
Goldshell a Kadena miner manufacturer - https://voskco.in/goldshell
How to set up an ASIC miner - How To Set Up an ASIC Miner - YouTube
Should you mine crypto in 2022? Find out! - Should You Mine Crypto in 2022? - YouTube

Timestamps


00:00 Most profitable coin to mine right now
02:18 10 Mining rigs giveaway
03:04 What is Kadena?
05:33 Goldshell KD Max Kadena miner
06:45 Where can you buy this miner?
07:14 Other powerful Kadena miners
08:53 How does this miner perform right now?
11:36 How much does tis miner make?
15:23 Is KD Max worth the money?
Follow us on our official social media accounts! - VoskCoin | Twitter, Instagram, Facebook | Linktree
VoskCoin is for entertainment purposes only and is never intended to be financial investment advice. VoskCoin owns or has owned cryptocurrency and associated hardware. VoskCoin may receive donations or sponsorships in association with certain content creation. VoskCoin may receive compensation when affiliate/referral links are used. VoskCoin is home of the Doge Dad, VoskCoin is not your Dad, and thus VoskCoin is never liable for any decisions you make.
Here's How Much a $2,918 Miner Earns Per Day